Iran has seized two Greece-owned and -flagged oil tankers in retaliation for Iranian oil seized off Greece earlier by US authorities state broadcaster ERT reported early Friday evening.
The tankers were approached by helicopters and members of the Iranian military have boarded on the tankers, the report noted.
Prompt was the response of the Greek Foreign Ministry that submitted a strong demarche to the Iranian ambassador in Athens. The FM spoke of "piracy" and condemned the Iranian actions. Furthermore, it demanded the immediate release of the crew that has been reportedly arrested as well as of the vessels.

On board of the Prudence Warrior there are 24 crew, 7 Greeks and 18 Filipinos, while on board of Delta Poseidon are 2 Greeks and an unknown number of foreign nationals.
The Foreign Ministry warned Iran of the negative impact on the bilateral relations and those with the European Union.
The Ministry warns Greek citizens to refrain from traveling to Iran.
The helicopters had taken off from an Iranian warship, ANT1 TV reported.
Communication to the tankers has been broken as the satellite signal has been silenced.
Iranian vessels escorted the tankers to anchorage a few nautical miles off the Iranian coast, reported
lloyd's maritime list
in an exclusive story.
Both tankers had reportedly loaded at Basrah, Iraq, with the Prudence Warrior to carry oil cargo for the USA.
According to Lloyd's List Intelligence, its destination was Agioi Theodoroi near Corinth and the cargo is understood to be for the Motor Oil refinery located there.
The seize by Iranian authorities takes place a day after the US seized a cargo of Iranian crude oil from Russian-managed tanker Lana in Greek waters.
Lana was formerly named Pegas and changed name and it carries an Iranian flag since May 1. The then Russian-flagged Pegas was seized by Greek authorities off the island of Evia mid-April due to EU sanctions against Russia but it was later released as it did not belonged to any sanctioned Russian oligarch.
Tehran decried the move as "international robbery" and a "clear act or piracy."
The Greek ministries of Foreign Affairs and Shipping are on alert, they closely monitoring the situation and are coordinating their moves, ANT1 TV reported.
The Foreign Ministry has informed about the incidents international Shipping authorities, EU partners and other allies.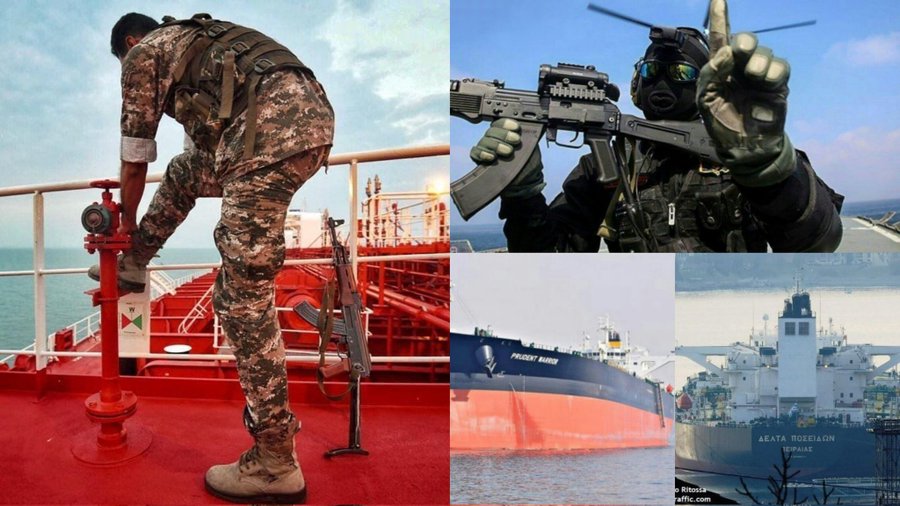 Later on Friday, Iran's Revolutionary Guards said they seized the two tankers.
"The IRGC naval forces today (Friday) seized two Greek oil tankers in the Persian Gulf due to violations that were committed," the Guards — the ideological arm of the military — said in a statement on their official website.
It did not elaborate on what the "violations" were.