A shipwreck with 95 migrants occurred off the island of Kythera, south Peloponnese late on Wednesday. There are reports of at least 5 dead people, some 15 people are stranded on the rocks. According to latest information, 30 people have been rescued, so far.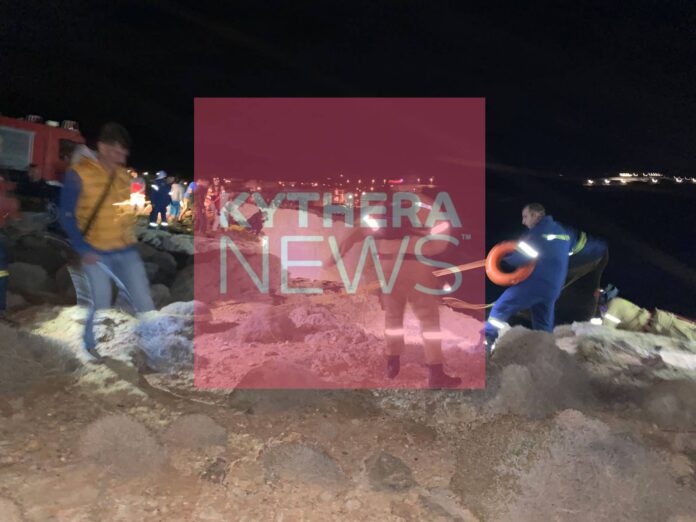 Under difficult weather conditions, with strong winds of 8 Beaufort, the Greek Coast Guard launched a Search And Rescue operation with the assistance of commercial vessels and volunteers.
The sailing boat crashed on rocky steep area and remains semi-submerged, outside the port of Diakofti, one nautical mile east of the bridge of Makrykythera.
According to the information provided by the Ministry of Shipping and Island Policy, one of the passengers notified via emergency line <112> that the boat is in a difficult position and that there are approximately 95 people on board. The passenger could not give the exact location. The emergency call was received at 8:47 p.m., while the first coast guard boat located the shipwreck at 9:04 p.m, the ministry said in a statement.
Coast guard boats are in the area,  while commercial ships and a navy helicopter are already there.
According to patrisnews.gr, the ship of the line Gythio – Kissamos made a U-turn towards Kythera to provide help, while another commercial ship rushed to the area as well.
Video:
The SAR operation is being conducted under adverse weather conditions, as storng winds are blowing in the area with 7 to 8 Beaufort and gusts measuring 9-10 B.
The operation continues still at 1 p.m. nd there are no officially confirmed information about the number of rescued, dead or missing migrants.
There are fear that the number of dead and missing will rise in the coming hours.
The Solidity Group of Kythera calls on locals to bring blankets for the migrants at the port of Diakofti.
sources: newsit, enikos, grtimes, kytheranews, patrisnews.