President of the Hellenic Republic Katerina Sakellaropoulou and Defense Minister Nikos Panagiotopoulos visited Ukraine on Thursday and had a meeting President Volodymyr Zelensky in Kyiv.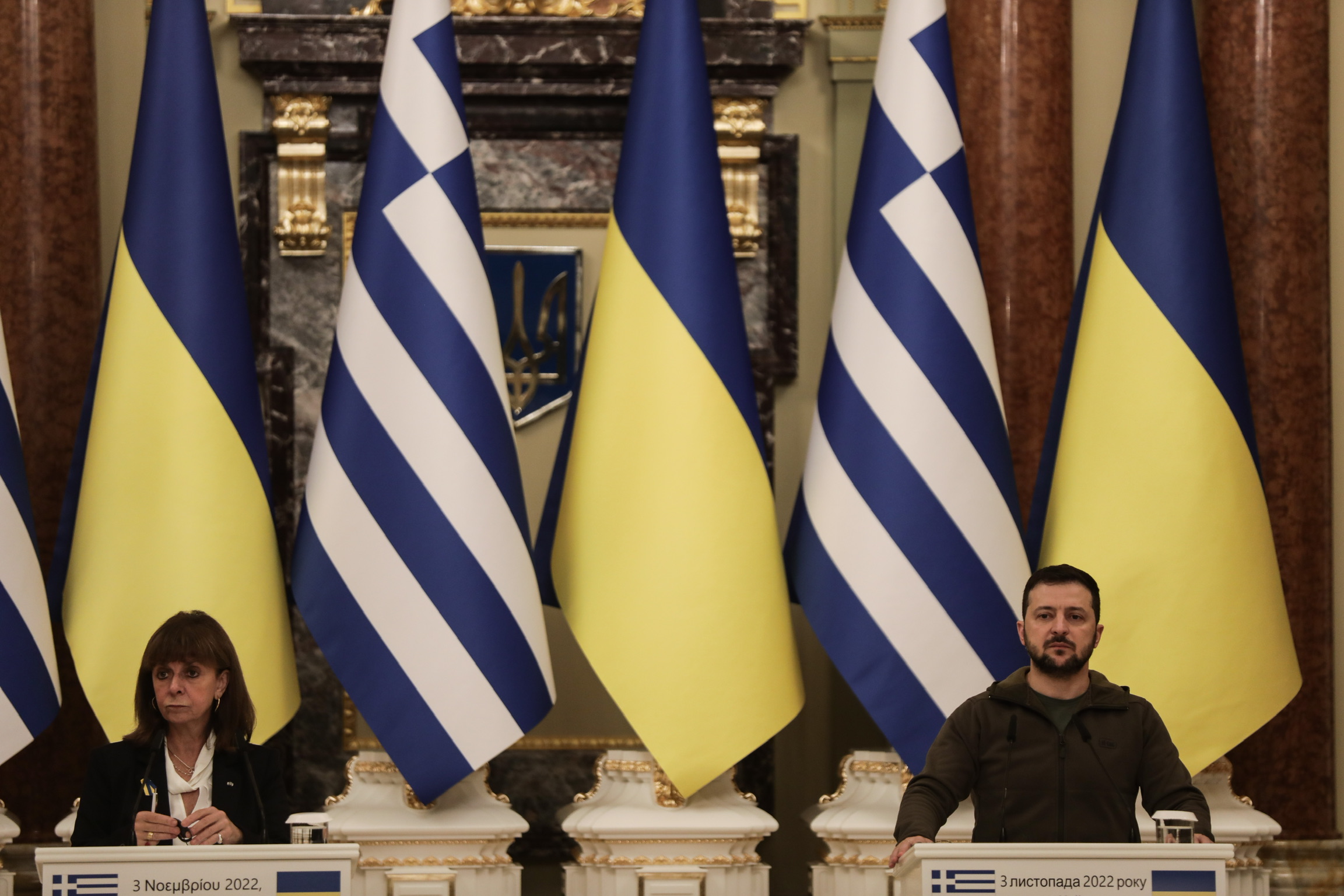 In statement after the meeting with Zelensky, Sakellaropoulou expressed Greece's undivided support and solidarity to the heroic Ukrainian people who are already facing nine months of the Russian invasion.
Russia's attack on Ukraine "concerns us all," she added.
"Through the brutal violation of International Law, the threat of a generalized food crisis – which will especially hit weaker countries – and the threat of nuclear disaster, an attempt is being made to overturn the post-war acquis of peace and progress," she noted.
"This is a direct challenge to liberal democracy and European  values, therefore the European Union and the international community should defend security and stability against revisionism," she added.
She stressed Greece's unwavering position that it "will never recognize the illegal annexation of areas in Ukraine that Russia is trying to enforce."
"We will not forget the [war] crimes committed in Mariupol against its innocent and peaceful inhabitants, a city with a Greek name and with a significant population of Greek descent," she underlined.
The Greek president also strongly condemned the "unacceptable Russian attacks aimed at destroying critical urban infrastructure in Ukraine ahead of the coming winter," which constitute war crimes, as they target civilians. "Greece strongly supports the attribution of accountability to those responsible for these crimes," she stressed.
Στη συνάντησή μου με τον Πρόεδρο της 🇺🇦 @ZelenskyyUa στο Κίεβο εξέφρασα την αμέριστη συμπαράσταση της 🇬🇷 προς τον ουκρανικό λαό, που αγωνίζεται ενάντια στη ρωσική εισβολή. Οι μεταβολές διεθνώς αναγνωρισμένων συνόρων με τη χρήση στρατιωτικής βίας δεν μπορούν να γίνουν αποδεκτές. pic.twitter.com/j8WjrEyyMK

— President GR (@PresidencyGR) November 3, 2022
In a tweet, Sakellaropoulou wrote:
"In my meeting with the President oof Ukraine Zelenskyy in Kyiv I expressed Greece's undivided support to the Ukrainian people, who are fighting against the Russian invasion. Changes to internationally recognized borders through the use of military force cannot be accepted."
E