A mafia-style execution in a popular leisure area in south Athens, in front of hundreds of young and old people on Sunday night has shocked Greece.
Two Albanian men, aged 41 and 44 years old, were shot dead in cold blood by an unknown person at a cafeteria in Nea Smyrni suburb of south Athens at 9:30 Sunday night.
A 31-year-old woman sitting at a nearby table was also injured by a stray bullet and admitted to a hospital in the Greek capital.
Another man was more lightly injured when he tripped in his attempt to flee the scene and hit his head.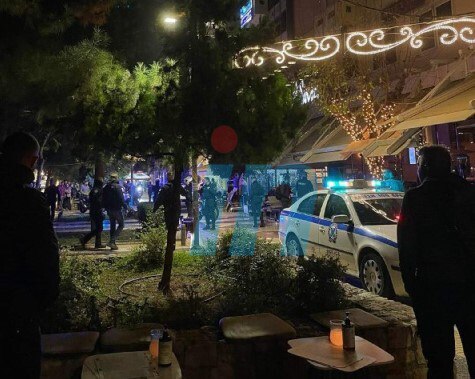 The killer fled the crime scene as quick as he shot and before police and ambulances arrived.
Note that Nea Smyrni Square is a pedestrian zone.
Footage from CCTV shows the killer in action: He fired 7 bullets in 4 seconds from a 9mm pistol, media reported.
The incident occurred at 21:30 on Sunday in a busy Nea Smyrni square full of people and children. The crime scene is located opposite a toddlers' playground.

The perpetrator was reportedly hiding in the bushes and the trees between the playground and the cafeteria.
He was dressed in black and had a surgical mask on his face. He walked up to the victims' table, took out a pistol and started shooting at close range.
The 41-year-old man died instantly while the 44-year-old died shortly afterwards in hospital.
According to media, the killer's target was the 41-year-old man identified as Kreshnik Cercizag, of Albanian origin, who was shot in the head with 5 bullets, newsit.gr reported.
He had a criminal record and was convicted for smuggling, drugs and robberies. He was released from prison under restrictive conditions. Police found that he was not carrying a weapon.
The second victim identified as Armando Ogranaja, was shot in the chest and stomach and succumbed to his injuries shortly after the attack.
One of the victims was reportedly collecting money for a gang offering protection to stores in Nea Smyrni.
Police digs deep into the past of the second victim who was not registered in their files.
Attica Police, who are carrying out a preliminary investigation, have attributed the shooting to a settlement of differences.
Interesting is the high risk the perpetrator took to shoot in a cafeteria full of people, risking the death of more citizens.
Police reportedly estimates that the second victim was a "collateral loss."
Police also suggests that the killer had a collaborator waiting not far from the crime scene.
Authorities are screening the area also on Monday seeking footage from security cameras and in hope the killer had taken the mask off at some point.