A Belgian court decided on Thursday evening that MEP Eva Kaili will remain in custody for one more month. She can appeal within 24 hours and her appeal will be examined within 15 days.
The judicial council decided to extend the pretrial detention of 44-year-old Eva Kaili in Harem prisons until January 22. At that time, her fate will be reassessed by the judicial council, as provided for in the Belgian legal system.
The decision was sent by email to Eva Kaili's lawyers and the reasoning states that she is considered to be suspected of destroying evidence of the investigation.
They even raised the issue of their abduction by the Qataris.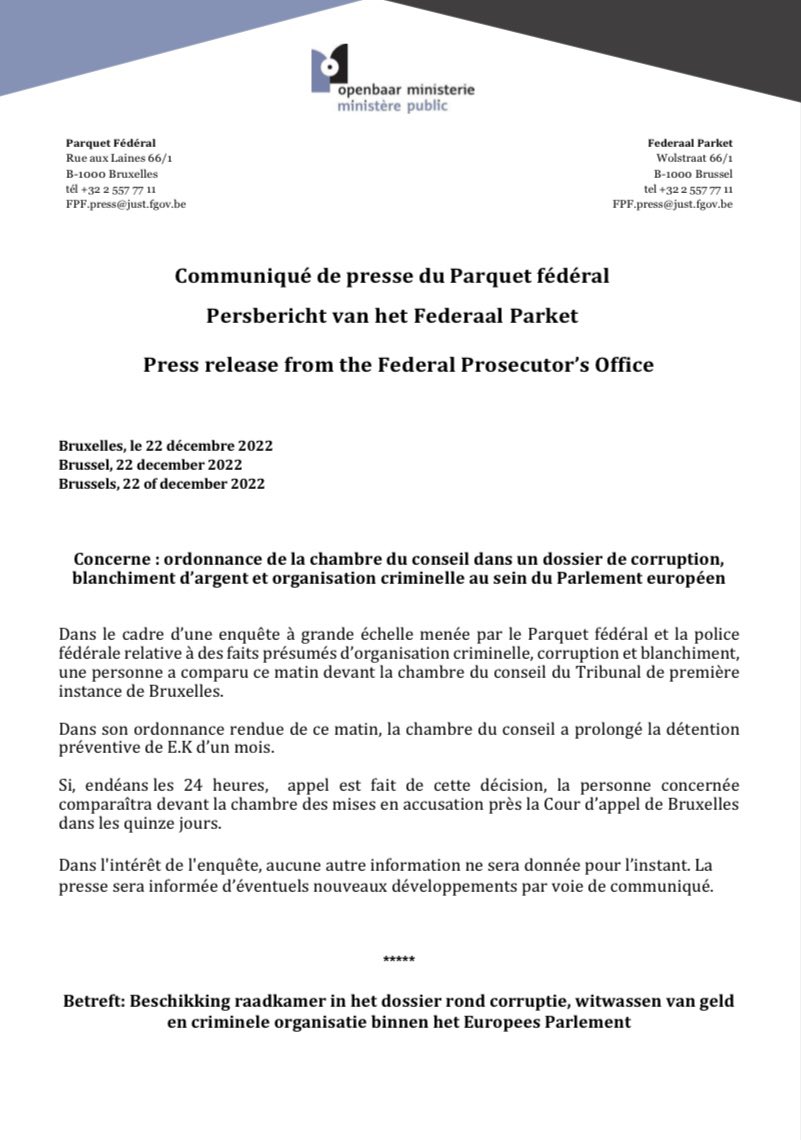 Email picture via Marco Bresolin correspondent of Italian newspaper La Stampa in Brussels.
Her Belgian and Greek lawyers had requested that Kaili is released with ankle bracelet.
Earlier, Kaili's Greek lawyer Michalis Dimitrakopoulos stated that from the suggestion made by the prosecutor not only the climate was not good but it showed that Ms. Eva Kaili should stay in prison.
Speaking to Alpha TV, Dimitrakopoulos said that the prosecutor did not seem to care if she has a child, he said very bluntly that it has no value adding and that he was particularly negative.
According to Dimitrakopoulos, the prosecutor considered Kaili a suspect of fleeing the country and even put forward as an argument that the secret services of Qatar would send spies in order to kidnap  Kaili and transfer her to their country.
Speaking to Mega TV later, the lawyer said that she will not appeal the court decision and will stay a month in custody.
Meanwhile in Greece, also on Thursday, money laundering authorities froze the plot on the island of Paros as well as a joint bank account of Eva Kaili and partner Francesco Giorgi via which the couple purchased the land plot on serious suspicious of money laundering.
Investigation in Greece against Kaili continues, depending on the Belgian indictment it will be decided if she will be prosecuted in her bitrth country or not.