Christmas at the beach and in swimsuit for many Athenians as temperatures are pointing out more to early Easter in spring than to the festive season in December.
Full sunshine, no wind and the mercury over 20 degrees Celsius had many to change their plans for a family gathering around the turkey table and flocked to the beaches to enjoy the fair weather.
Meteorologists told state broadcaster ERT that it was the warmest Christmas in five decades as the temperature were up to 7°C above the seasonal average for the period 2010-2022.
In many areas of the country temperature approached and locally exceeded 20 degrees, with the Attica basin being no exception.
On Christmas Day and according to the Athens National Observatory's/ meteo.gr automatic meteorological stations network, the highest temperatures were recorded in Paleohora, Chania region (20.1C), Makrohori of Veria (20.1C), Veria town (19.9C), Dion in Pieria (19.9C), Petrokefali Moiron οn Crete (19.9C), Kalamata (19.8C), Moschato, Attica region (19.8C) and in Sparti (19.8C).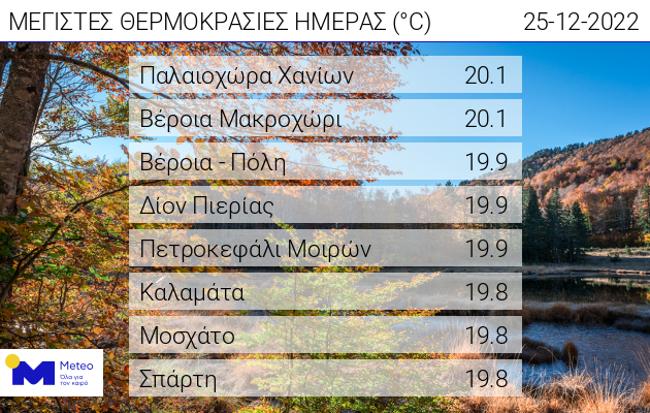 The high temperatures will continue also on Tuesday, December 27, even though in the North of Greece, temperatures are below zero early in the morning.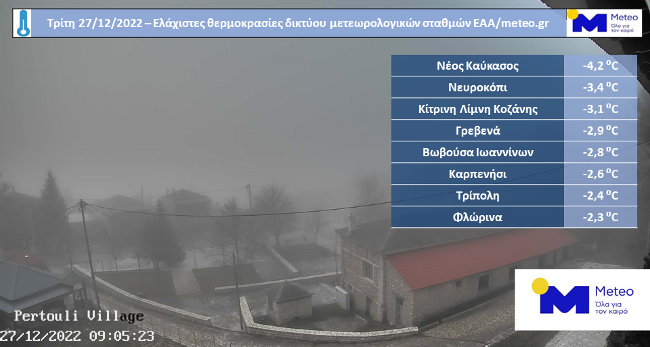 The weather will remain spring-like in the New Year as well, as it seems that winter refuses to come and refutes the previous forecasts.
According to OPEN TV meteorologist Klearchos Marousakis "as we go towards Tuesday and Wednesday the temperature will rise, from Thessaly southward 20 degrees Celsius will dominate.
Especially in eastern mainland, northern Crete and the islands in the eastern Aegean Sea, temperature is forecast to reach up to 22°C .
Of course, the temperatures will have a big deviation as they will be high at noon but will drop quite a bit in the evening.
"On Wednesday the temperature will drop but towards the New Year we will have a new invasion of high temperatures," Marousakis added.
Indicative forecast maps: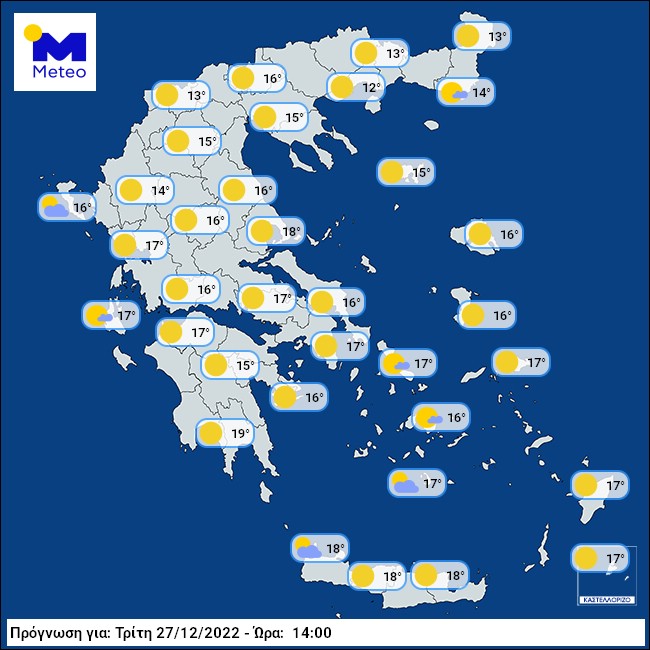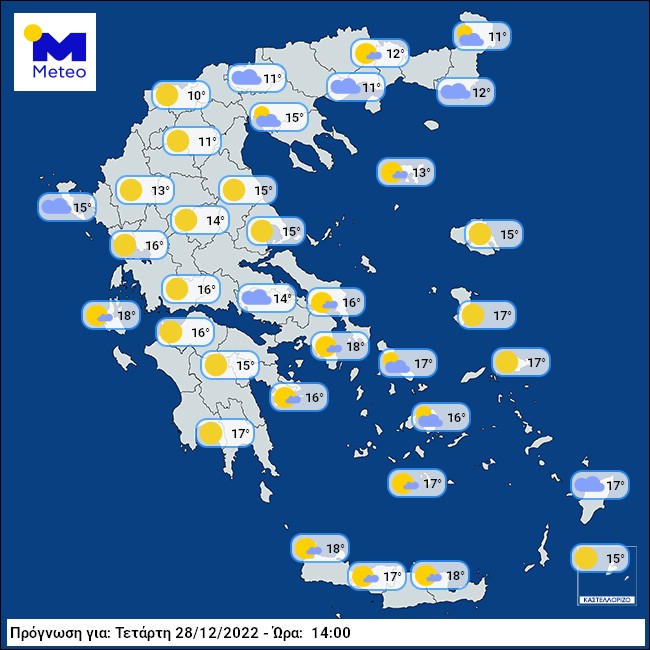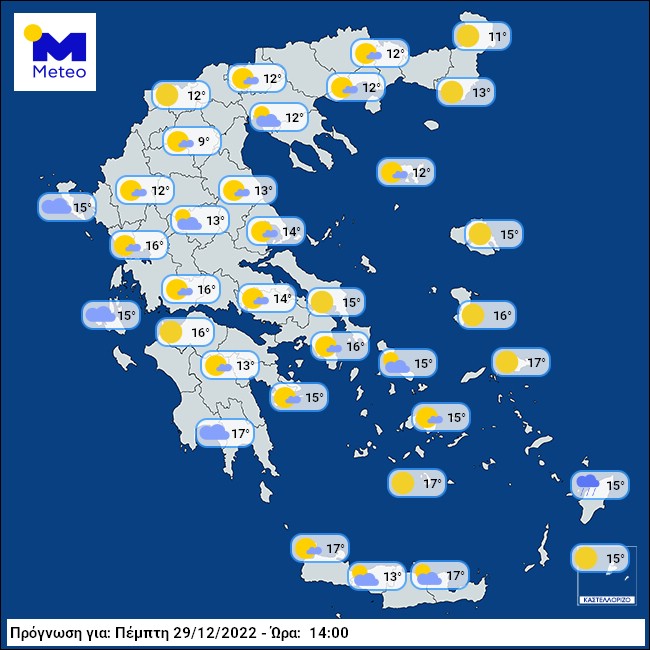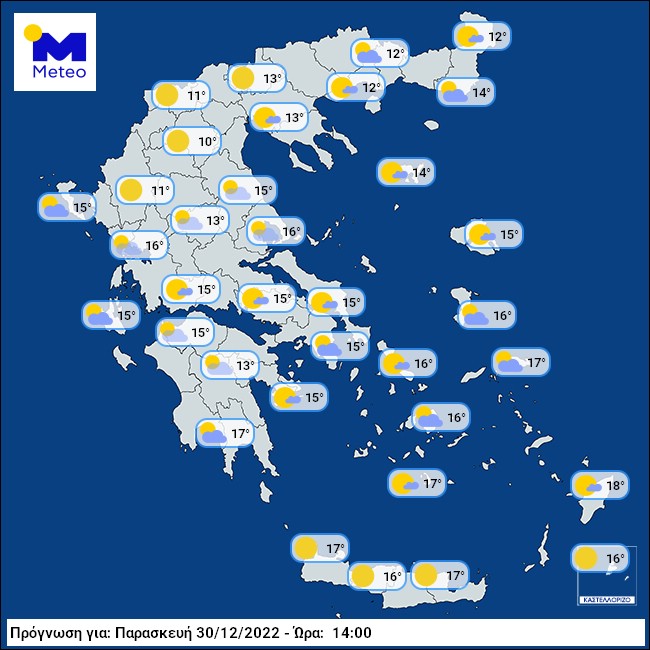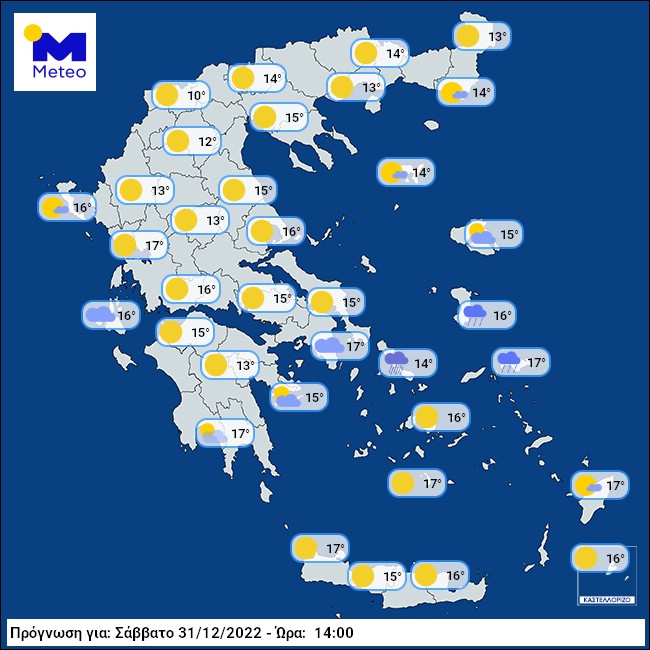 source: meteo.gr maps