Over 40 elderly people were discovered to live in miserable conditions in a nursing home in Korydallos suburb of Piraeus.
They were malnourished, dehydrated and filthy as their personal hygiene was neglected. Several were found to have been infected with Covid-19, while three elderly had scabies. Some had bruises and wounds on the head and eyes -as shown on pictures obtained by Alpha TV.'s TLife.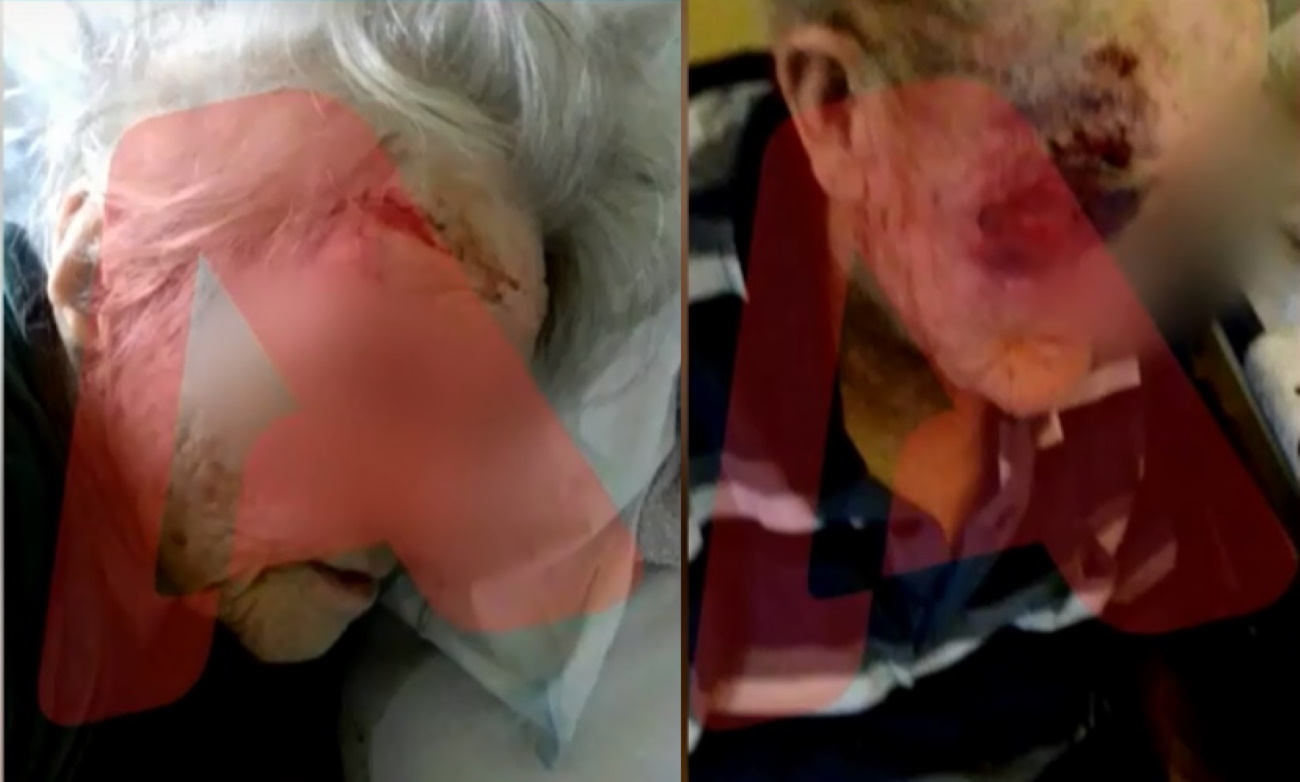 The horror in the nursing home was discovered on Friday when following complaints authorities raided the building. The owner or managing personnel were nowhere to find and authorities located only one 'nursing' staff plus a cleaner.
The facility was closed with a padlock and authorities had to force their way inside.
The complaints came in December 2022, ANT1 TV reported.
Statement by former employee
A former employee told ANT1 TV that the elderly were systematically subjected to physical and mental abuse, including being deprived of essential medication and being tied up to radiators or to beds for "being aggressive."
The woman who spoke on conditions of anonymity claimed that the owner and his son used boxing gloves to beat the elderly.
She also revealed that the nursing home's management would order staff to make sure that patients appeared well looked after during visits from their relatives, even though basic care and sanitation standards were not being met.
Horror "nursing" for woman's mother
One woman, Aliki K. told enikos news website, said that her mother had lost 10 kilos in 40 days and looked scared. He mother was in the private nursing home from January 10, 2021 to February 20, 2021. She denounces the abusive behavior of the director of the nursing home towards the elderly.
"My mother was 70 kg and within 40 days she lost 10 kg. She was well-preserved and without any mobility problems, and then I learned that she was 'found' lying down, with necrosis of the site down to the bone."
At some point, the mother told Aliki in a phone call that they tied her up and she was complaining about the food, that they were given very little, just a small plate and mainly the menu was rice, barley soup, and some compote."
As Aliki live in corinth she had a friend inAthens to go and check with the old mother. "She couldn't believe her eyes with what she saw," the daughter said.
She contacted the doctor and the director of the structure and "he always had a counter-argument for everything."
On February 20, she was notified of a group transfer of elderly people to various hospitals and of my mother with symptoms of gastroenteritis. I immediately went up to Athens to be near her and was informed that she had coronavirus."
After the hospitalization, the mother did not return to the nursing home. She hired a lawyer to have back her mother's items, clothes and medication. She needed 5 months to bring her back to normal life.
Aliki regretted that she did not take any legal action back then.
Facility had license revoked in 2020
The nursing home has been in quarantine since Saturday and only four patients have been taken to hospital: the three with scabies and one with dementia who refused food.
The home had reportedly its license revoked over health violations in 2020 but the order to shut it down and relocated its patients was reportedly put on hold by a Piraeus court a few months later.
Relatives demand the prosecutor's intervention.
In addition to the inspections of the Region of Attica and the fines that are expected to be imposed, the criminal investigation of the case is also ongoing. According to information from state broadcaster ERT, a case file for criminal acts has been opened in consultation with the competent prosecutor.
TLife magazine contacted the former owner of the nursing home, who spoke of "slander coming from malicious competitors."
The first complaints had been made to the police already in 2016. The results of the investigation had been forwarded to those in charge. According to media information, violations were found at that time as well.
Fines of 30,000 euros were imposed but the nursing home continued its operation.
It is not the first and certainly will not be the last nursing home with unacceptable behavior and conditions. It has much to do with the inspections by authorities in charge, the Regional government and the Ministry of Labor & social Issues, or better say: the absence of them.
It's really weird – if not suspicious – that the public was not informed about the  license revoke in 2020 and kept bringing elderly to the facility.