Defying the cold and drizzle, potato farmers from Nevrokopi and Drama, Northern Greece,  arrived early in the morning at Thessaloniki International Exhibition Centre, and started to distribute 12 tons of potatoes to residents of the city. They distribute 1,700 packs containing 6 kilos of  potatoes free of charge, while 300 packs will be donated to the community grocery store established to serve the poor.
More pictures in news247.gr
With this action the potato growers want to protest the very low prices that the merchants buy their products. Almost half the price of the production costs, as they say. In addition, 70% of their harvest remains unsold, while potatoes are imported from Egypt.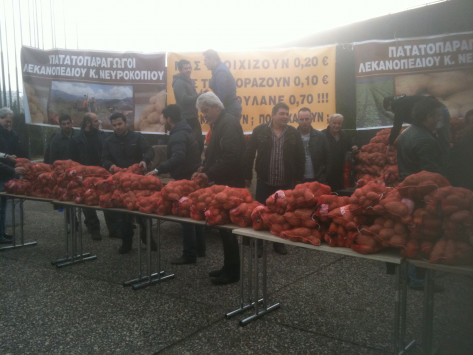 In a banner the farmers write: potatoes' production cost is €0,20/kilo; merchants buy them for €0,10 and sell them for €0,70. (more pictures seleo.gr and NewsIt)
Hundreds of residents of Thessaloniki rushed to the premises of the 24th Agrotica Fair to get a pack of potatoes.
Video
embedded by Embedded Video

YouTube Direkt
Potatoes from Nevrokopi are considered to be of one of the most delicious kind produced in Greece.
Ten days ago,  farmers from Viotia distributed vegetables free of charge in Athens. Within four hours they had given twenty tons of potatoes, carrots, onions and other vegetables to the residents of the Greek capital who queued for the free goods.