The scenery outside the Greek Parliament on Wednesday afternoon was a pandemonium of monks supporters consisting of nuns and monks, Football Club members as well as Golden Dawn supporters,supporters of an anti-protest demonstration.
A pre-protest of the main protest was staged by a group of supporters  monks at rebel Esphigmenou Monastery on Mount Athos.
20-30 people of a group called Original 21 came outside the Parliament in downtown Athens and raised a banner reading "No to citizens' card = 20 years conviction. Hands off from Esphigmenou".
Original 21 is a group of FC AEK with origins from Constantinople (Istanbul).
A riot police squad chased the group members through the main avenue Vasilissis Amalias. Police 'isolated' two protesters but released them.
Then the main protest started at 6:30, present were also some Golden Dawn supporters and one GD MP.
Banner: Wake up Greeks, Esphigmenou Monastery is persecuted. They beat Orthodoxy."
Protesters held candles and chanted "Hands off the Orthodoxy" and other slogans against the conviction.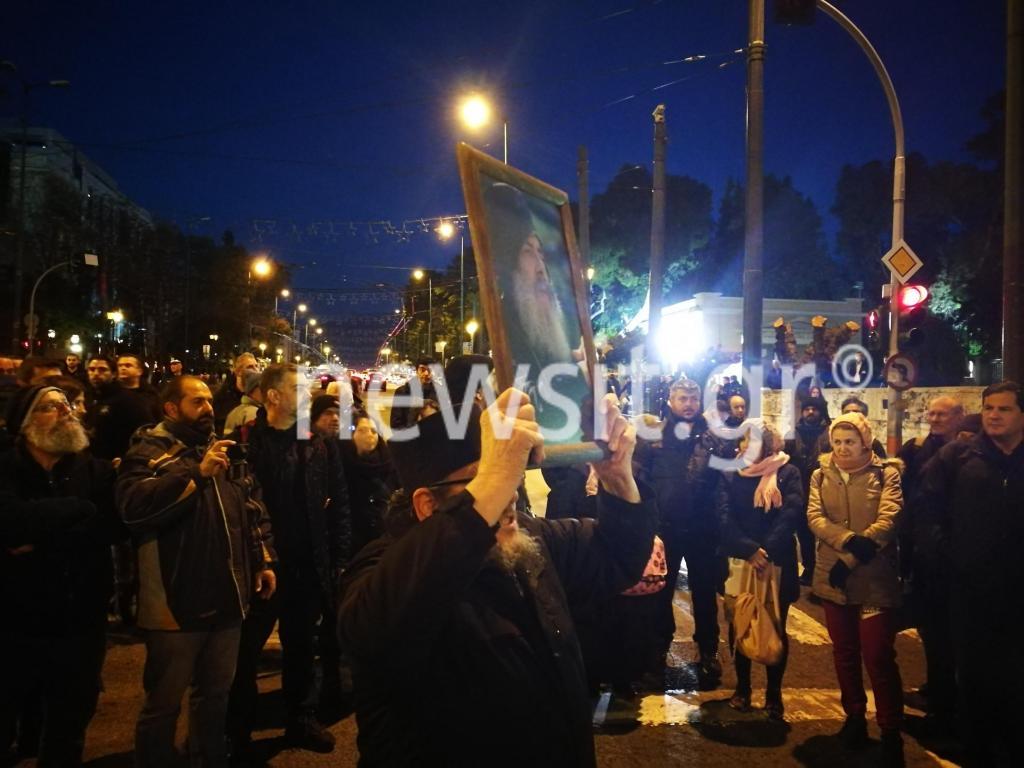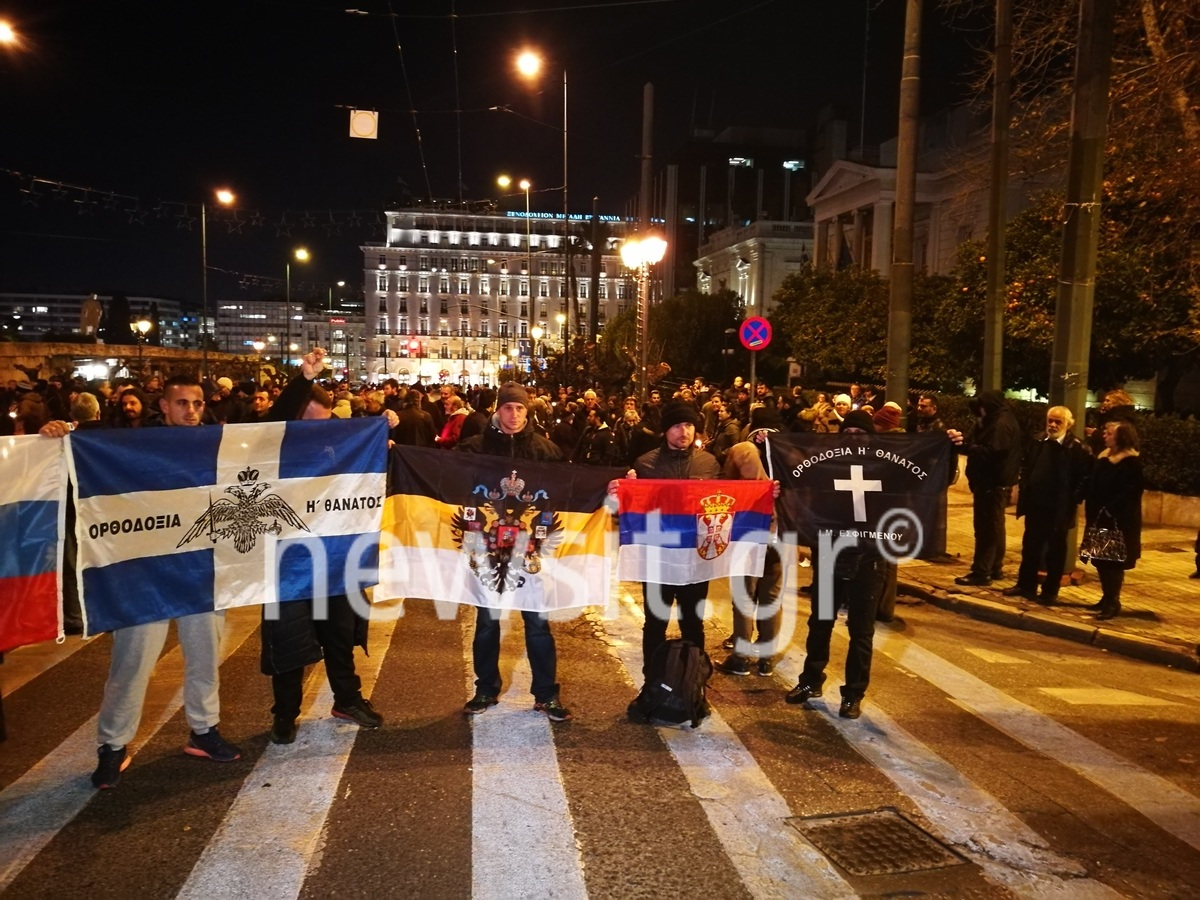 Banner: Orthodoxy or Death
At the same time a group staged a protest against the protest.
An anti-protester had alleged that she was beaten by GD members when she loudly expressed her objections to their presence.
Last week, a court in Thessaloniki convicted two monks from Esphigmenou monastery to twenty years imprisonment each for construction, possession and usage of molotov cocktails  at an incident that took place in the monastery in July 2013, when riot police and a court bailliff went to evacuate the Monastery offices form the schismatic monks.
The zealot monks had opposed the evacuation of part of the monastery. Another 11 people,  8 civilians and 3 other monks- were also arrested, they were also convicted.
Esphigmenou monastery is an Eastern Orthodox monastery in the monastic state of Mount Athos in Greece, dedicated to the Ascension of Christ.
The schismatic Esphigmenou along with other Mt. Athos monasteries had been involved in a long dispute with the Ecumenical Patriarchate of Constantinople. The dispute continues since a new "Esphigmenou brotherhood", was established.
The monastic community of Mount Athos is under the direct spiritual jurisdiction of the Ecumenical Patriarch and all Athonite monks are canonically required to commemorate the Patriarch. However, since the 1970s, Esphigmenou, along with other Mt. Athos monasteries, had accused the Ecumenical Patriarch Athenagoras of being ecumenist and had refused to commemorate him. These complaints mainly consist of canon law prohibiting Orthodox from praying with heretics.
The relationship between the current occupant monks of Esphigmenou monastery and the Ecumenical Patriarchate has greatly deteriorated since 2002, when Ecumenical Patriarch Bartholomew I of Constantinople declared them as being in schism from the Orthodox Church. Since the Constitution of Greece prohibits schismatics (or Roman Catholics) from dwelling in Athos, the occupants of Esphigmenou were ordered by a Thessaloniki court to leave the monastery, however they refused to comply. More information here.
PS I had a rare moment of  difficulty to understand who is protesting what and why and how these groups of protesters are connected to each other.