Slovakia, together with Spain and Greece, are the countries with the largest decline in the youth unemployment within the eurozone area. According to a report of the European Central, the unemployment rate among workers between 15 and 24 years old, dropped in the years 2013 to 2016.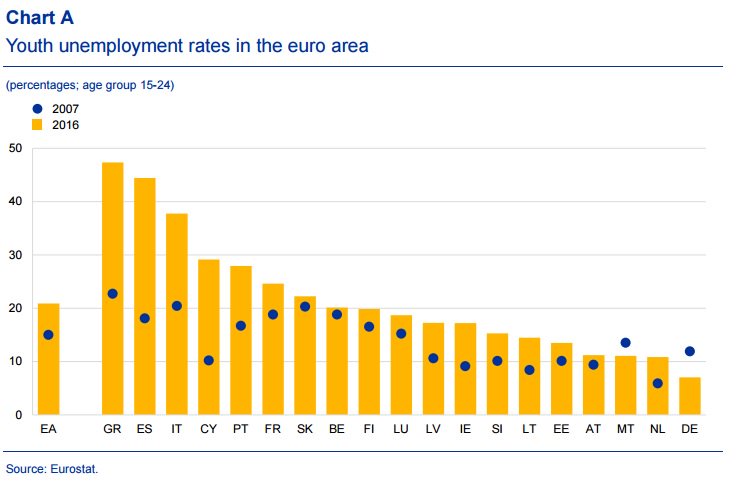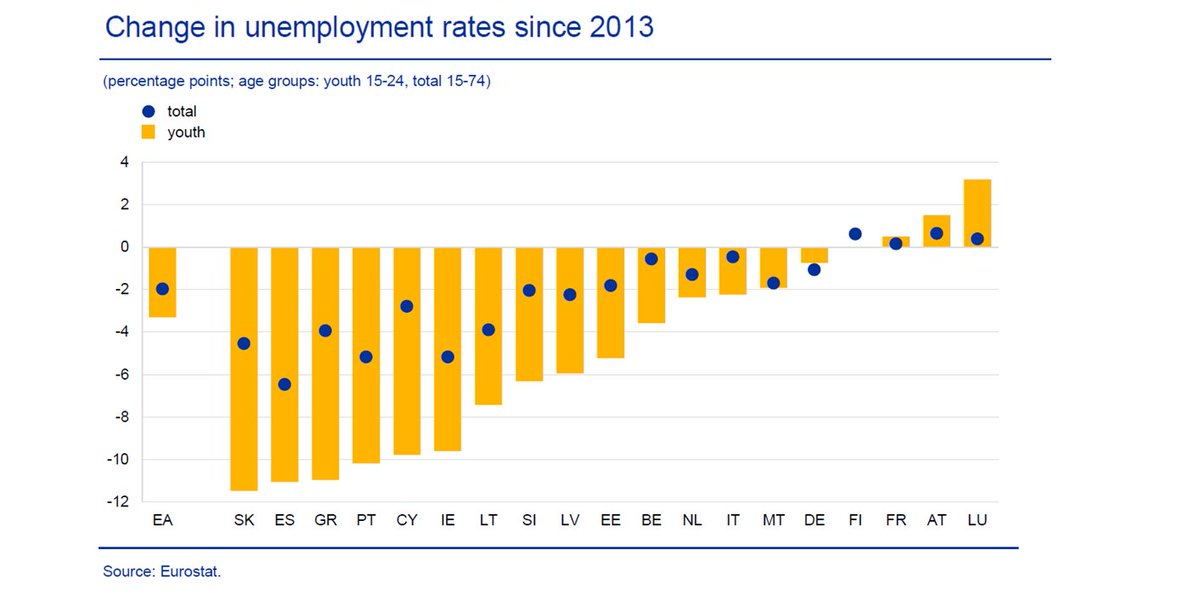 The study uploaded in the ECB website, notes, however, that "youth unemployment is particularly high in Greece, Spain and Italy, following the large rate increases that occurred during the crisis."
In Greece, the unemployment rate for young people appears to have fallen by more than 10 in the period 2013-2016, according to a study chart. In December 2016 it stood at 46.7% on the basis of Eurostat data.
This figure is twice as high as total unemployment is given as 23.5% in December 2016.
Greater decline in unemployment was seen only for Slovakia and Spain among the countries of the eurozone.
Youth unemployment is EZ South vs Germany:
Greece 48%
Spain 40.5%
Italy 35.2%
France 23.7%
Portugal 23.3%
Germany 6.7%

Of course, youth unemployment is declining faster than the total unemployment. Because it is easier to hire young workers for wages so low that cannot secure them a living on their own.
The ECB could also try to find out whether the national youth unemployment declined because the countries' youth migrated to other countries.
Food for thought for one more ECB survey is to find out how many of the "youth" were still employed in 2017 in EU subsidized jobs they found in 2013.
Or bgin something about the job quality – because all I see around in Athens is young people with university degrees working part-time in cafes, restaurants, suvlaki grills and lottery shops.  there are also pretty many jobs as delivery boys.
ECB youth unemployment report in PDF
PS tsk tsk tsk …amazing things are happening and we don't even notice them. Ops! It's just the nice charts.