Infections continue to rise and Greece's health authorities announced on Monday 2,065 new coronavirus cases and 10 Covid-related deaths in the last 24 hours. The number of intubated Covid-patients in hospitals Intensive Care Units decreased further to 139.
Note that it is the first time since beginning of May that authorities record over 2,000 infections on a Monday, the day where tests in the pasts 24 hours are significantly lower due to Sunday.
In extraordinary address to the nation, prime Minister Kyriakos Mitsotakis will make announcements regarding the mandatory vaccination and the operation of venues indoor spaces. The address is scheduled at 7 p.m. Monday, July 12.
Live Briefing
At the live briefing on Monday, health authorities announced that the platform for the vaccination of age group 15-17 will open for appointments on Thursday, July 15.
They also announced that the "penalty" of no more two changes for vaccination appointments is being scrapped and citizens can change their appointments as many times as they want.
Chairwoman of the National Vaccinations Committee Maria Theorodirou analyzed the reasons why citizens are reluctant to get a jab.
She named the reasons as:
fear of vaccination side-effects – These are minimal, she said
hope for a medicine against Covid-19
belief that people with chronic diseases should not be vaccinated – also these people should get a jab, she added
Theodoridou stressed that the Delta variant will mostly hit young people who although they will not get seriously ill, they can transmit the Covid-19 to the members of their family and their environment.
She urged for the vaccination of the youth.
She stressed that those in ICUs are people who have not been vaccinated.
Vaccinations
Stand July 11, 2021: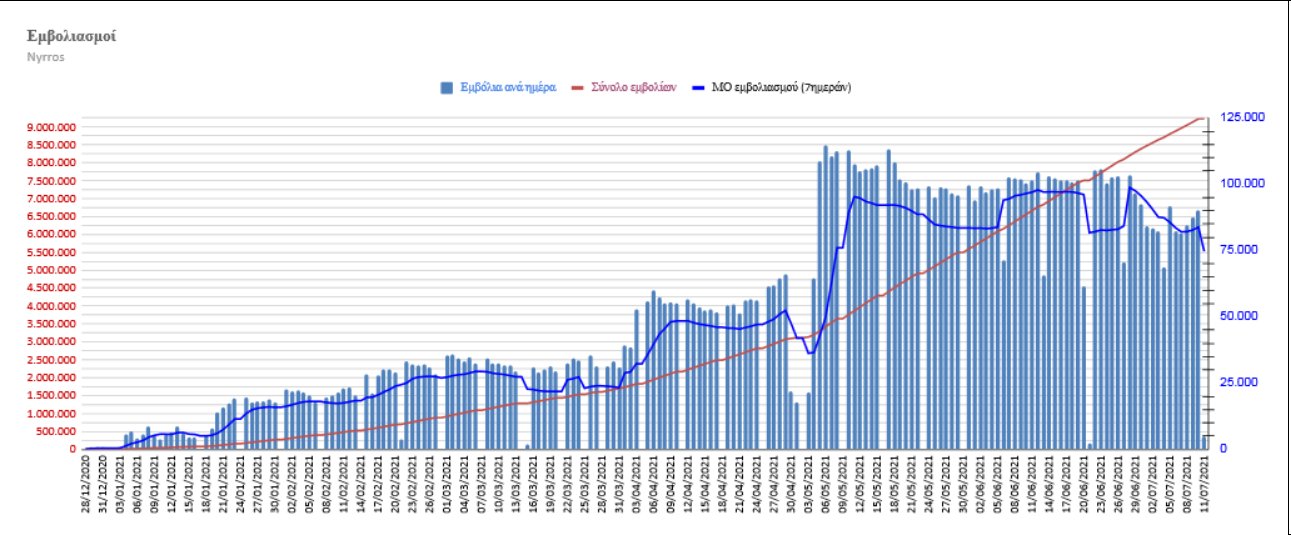 Of the 5,246,110 vaccinated citizens (50,3% of population with at least one dose):
987,500 Partially vaccinated 
4,258,610 Fully vaccinated (40.9%)
5.246.110 Εμβολιασμένοι πολίτες (50,3%) 9.233.521 δόσεις 987.500 Εμβολιασμένοι μερικώς (36.850 MO) 4.258.610 Εμβολιασμένοι πλήρως (41.466 MO) (40,9%))
Vaccinations tracker per region here.
Official coronavirus data, July 12

Tests in the last 24 hours: PCR  6,008 Rapid tests 30,782
Positivity of PCR & Rapid: 5.61%

blue: tests red: positivity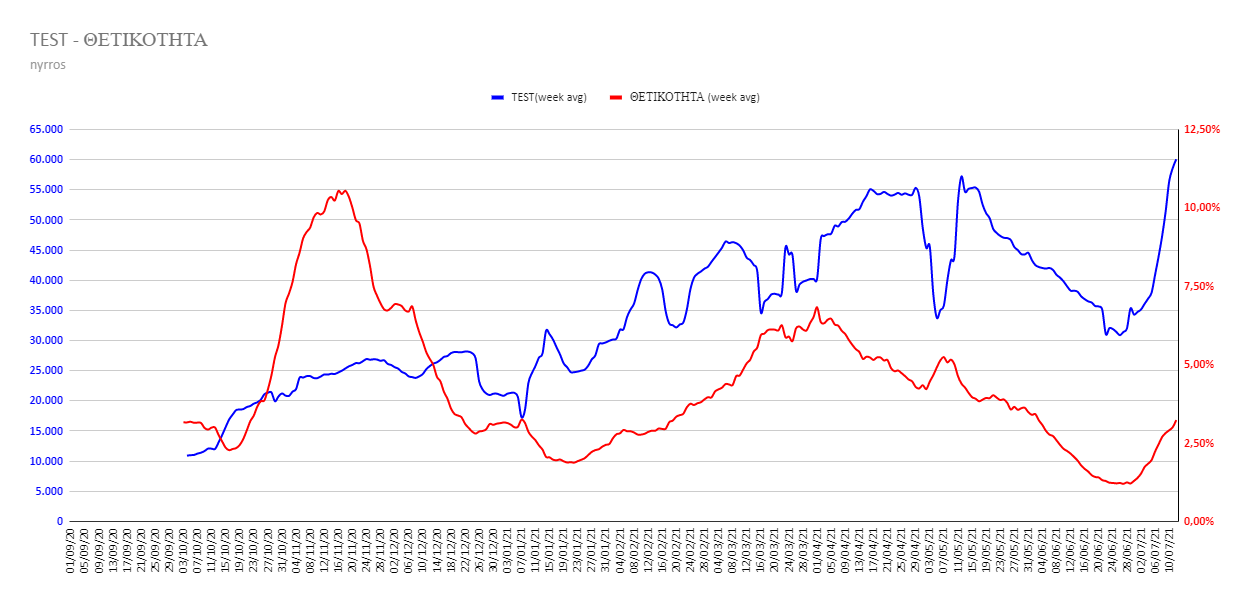 Rt: 0.8 from 0.81 last week. Authorities still haven't published the updated Rt

Since the pandemic began, Greece has confirmed 440,872 infections (daily change: +0.5%). In the confirmed cases of the last 7 days, 156 infections are related to travel from abroad and 1874 to other confirmed cases.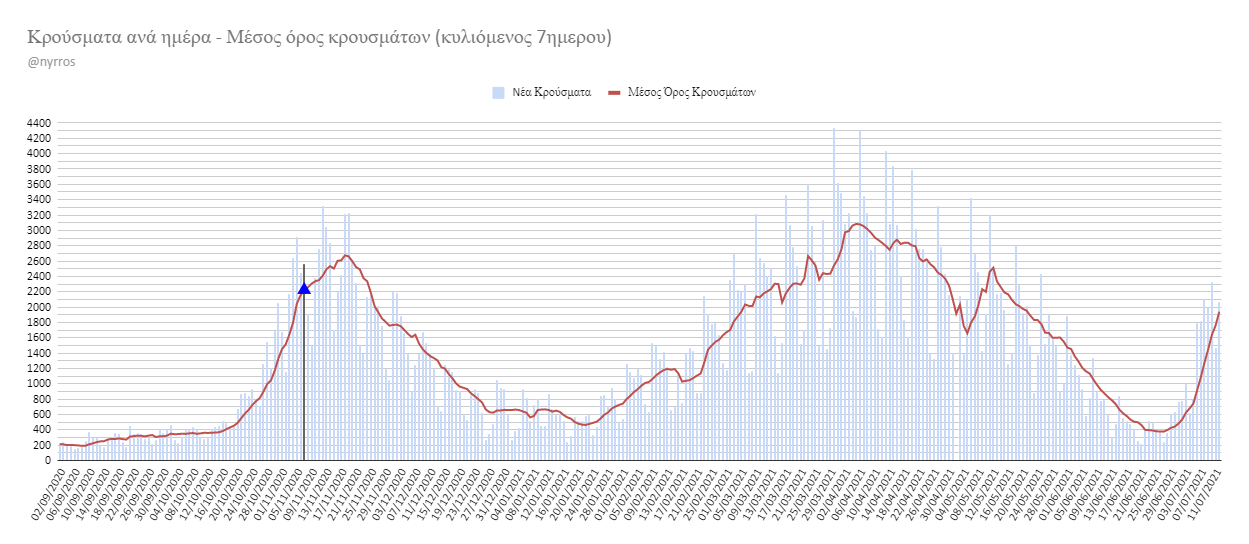 Rolling average: 1940 (742 previous week)
51.2% of the infected are men.
There are 10 deaths recorded in the last 24 hours, the total of pandemic victims to 12,802.  Of these, 95.5% had an underlying condition and/or were 70 years old.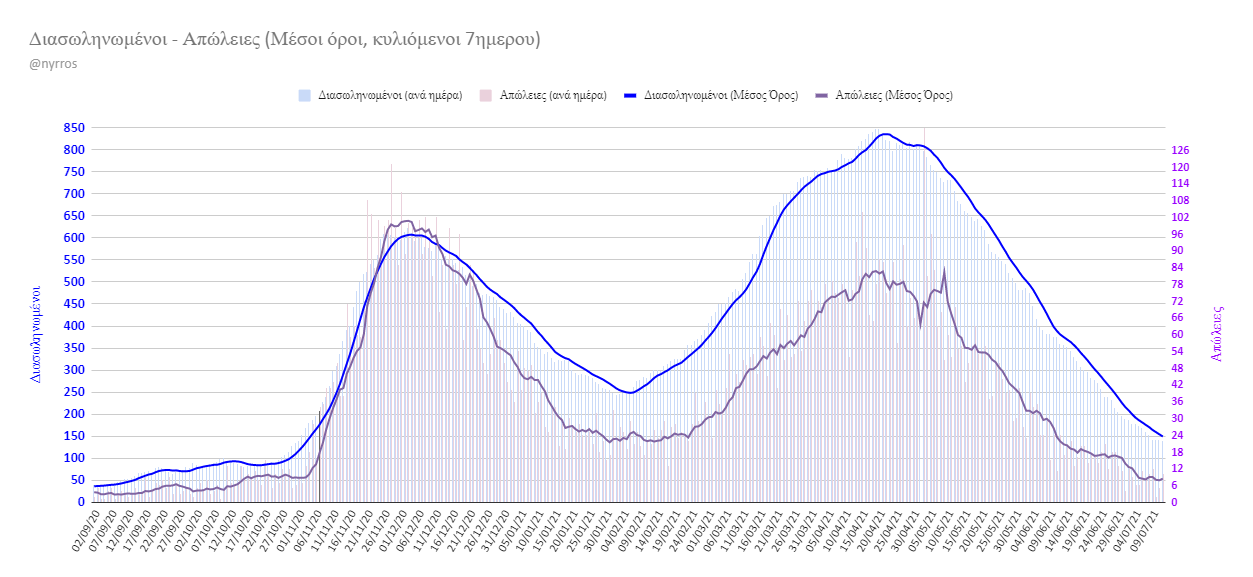 A total of 139 Covid-patients – from 142 a day earlier -are on ventilators in hospitals. Their median age is 66 years. 66.9% are men. 85.6% have an underlying condition and/or are aged 70 or more.
2,736 patients have been discharged from ICUs since the pandemic began.
85 Covid-19 patients were admitted to hospital in the last 24 hours (daily change: +30.77%). The average admission of patients with Covid-19 to hospitals over the last 7 days was 65.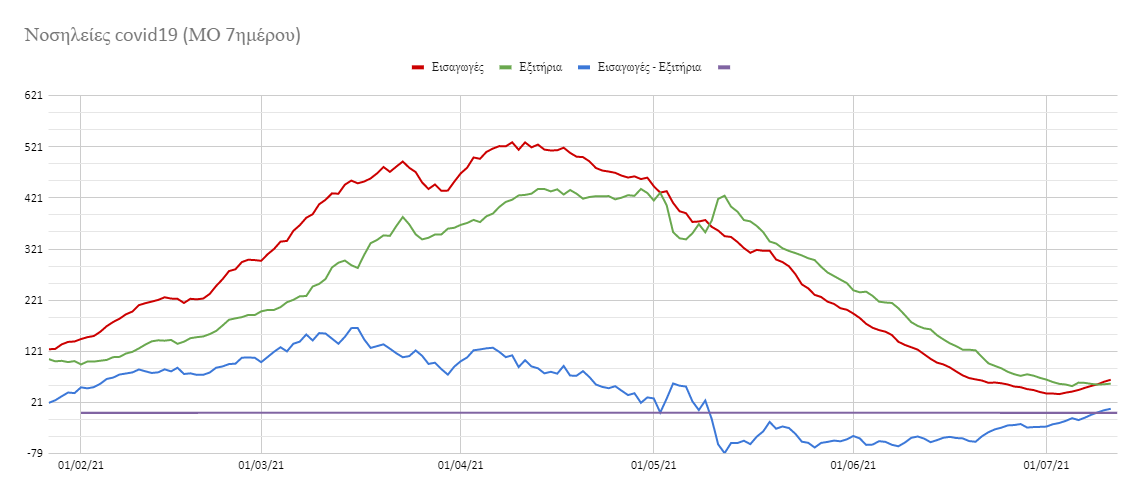 The median age of new infections is 42 years (range: 0.2 to 106 years), while the median age of the deceased is 78 (range: 0.2 to 106 years).
Geographic distribution July 12

Regional units epidemiological load: last 7 days – infections per 100,000 population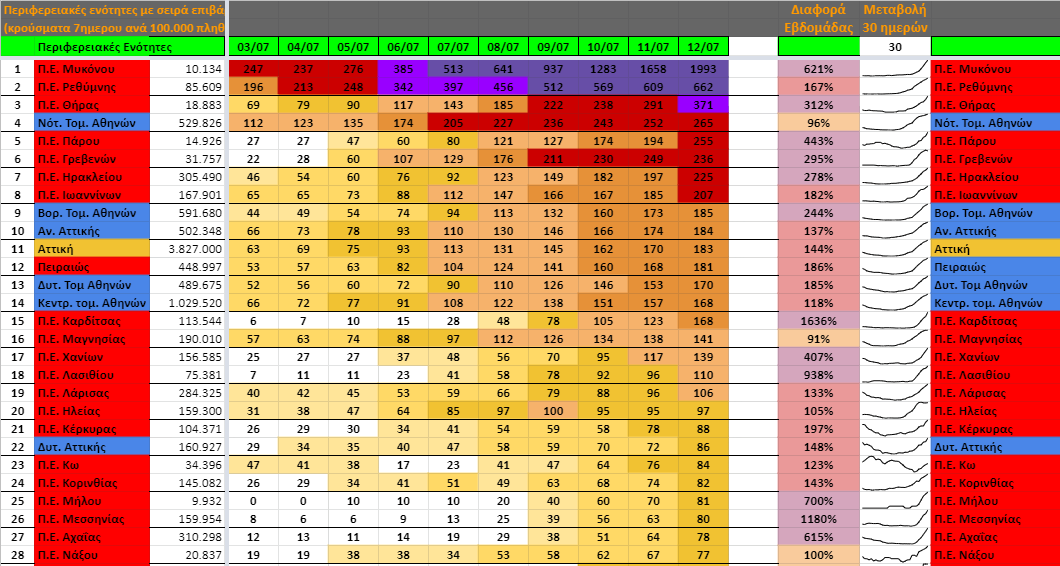 Of the 2065 new cases, 12 were detected at the entrance gates of the country and 8 among travelers already in the country.
The remaining cases are:
892 Attica
126 Thessaloniki
114 Heraklio
84 Rethymno
Each 54 Ioannina, Karditsa
45 Achaia 44 Larissa
Each 42 Mykonos, Chania
35 Magnisia
27 Messinia
Each 26 Evia, Corinth
Each 18 Ilia, Thira
17 Aitoloakarnania
Each 14 Rhodes, Corfu
Each 12 Paros, Lasithi, Serres
Each 11 Arcadia, Kozani, Pieria, Trikala, Fthiotida
Each 10 Viotia, Lesvos
Each 8 Argolida, Thesprotia, Halkidiki
Each 6 Grevena, Imathia, Naxos, Chios
Each 5 Evros, Kalymnos, Florina, Fokida
Each 4 Kos, Kefalonia, Pella
Each 3 Arta, drama, Zakynthos, Tinos, Preveza
Each 2 Milos, Syros, Lakonia
Each 1 Evrytania, Ikaria, Kavala, Kastoria, Lefkada, Xanthi, Rodopi, Sporades
133 under investigation
Coronavirus Infections Maps to compare
Greece's Covid-map of confirmed infections in the last 14 days, based on permanent or temporary residence.
Official data by EODY Daily Report in Greek
here.
More information on coronavirus in Greece
here.