For fourth consecutive day, coronavirus cases in Greece broke a new all time record on Thursday and reached 35,580 confirmed infections. In Attica alone infections skyrocketed to 15,713 in the past 24 hours.
Health authorities announced also 72 Covid-related deaths in the last 24 hours, while the number of intubated Covid-patients in hospitals has increased again to 636.
On the bright side of the infections spike is that neither the number of deaths nor the one of intubations has dramatically increased. However, health experts warn that the both factors will start increasing in the upcoming days.
The new restrictions went into effect on Thursday morning and are initially in force until January 17. More details here on KTG.
The Greek government is determined to chase violators of restrictions especially on the New Year's Eve and Day and fine them with 50,000-200,000 euros.
Live Briefing: Omicron prevails
At the weekly Live Briefing on Thursday, Deputy Health Minister Mina Gaga said that over 60% of the new infections are attributed to Omicron Variant.
Other health experts said that there are currently "53,000 people infected, an unprecedented vertical increase of infections cases.
All laboratories confirm the prevalence of the Omicron, the experts.
They stressed that the Omicron is super-contagious, the incubation time is shorter and that is why the quarantine instructions have been revised. They added that also the clinical picture is different from the other variants.
They added that "vaccinated people are more protected, even though the risk remains significant for older people and therefore they should be careful and get vaccinated.
They advised that citizens get tested before go out for socializing and that the unvaccinated who get infected for the first time to confirm with a PCR test, something that is not necessary for the vaccinated.
Official EODY data December 30
Tests in last 24 hours:
PCR: 60,693  RAPID: 363,989

Positivity PCR+RAPID: 8.38%
Since the pandemic began, Greece has confirmed 1,170,293 infections (daily change +3.1%). In the confirmed cases of the last 7 days, 217 infections are related to travel from abroad and 1,410 to other confirmed cases.
Rolling average 16,234 from 4,909 last week.
Rt 1.27 from 0,96 last week
72 deaths recorded in the last 24 hours, brought the total of pandemic victims to 20,708. Of these, 95.2% had an underlying condition and/or were aged 70 or over.
636 patients are on ventilators in hospitals, from 620 a day earlier. Their median age is 64 years and 59.7% are men. 80.2% have an underlying condition and/or are aged 70 or over.
Of the total in intubation, 540 (84.91%) are unvaccinated or partly vaccinated and 96 (15.09%) are fully vaccinated.
3,751 Covid-patients have been discharged from ICUs since the pandemic began.
421 Covid-19 patients were admitted to hospital in the last 24 hours (daily change: +1.94%). The average admission of patients with Covid-19 to hospitals over the last 7 days was 346.
The median age of new infections is 37 years (range: 0.2 to 106 years), while the median age of the deceased is 78 (range: 0.2 to 106 years).
Vaccinations
Stand Dec 29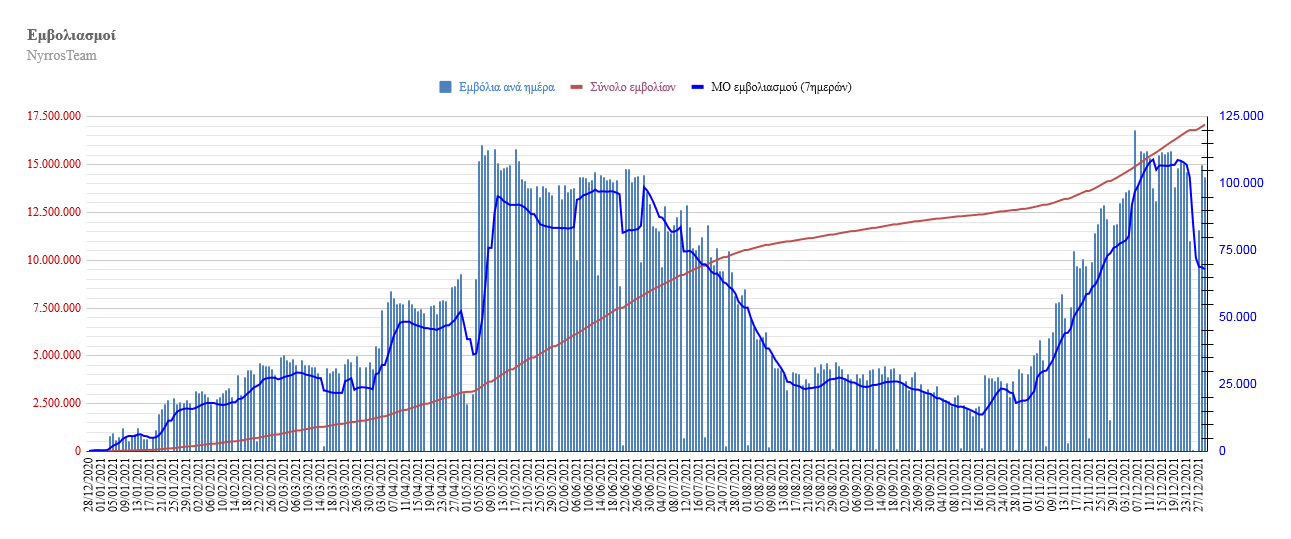 Partly vaccinated 71.4%
Fully vaccinated 67.1%
Booster shot since Sept 13: 3,391,006

Geographic distribution December 30
Of the 35,580 new coronavirus cases, 32 were detected at the entry gates of the country and 5 among travelers already in Greece.
The remaining cases are:
15,713 Attica (!)
3,997 Thessaloniki (!)

890 Achaia 840 Larissa 830 Heraklio
560 Kozani 535 Pieria 533 Evia 504 Ioannina 502 Karditsa
471 Serres 458 Aitoloakarnania 424 Chania 413 Corinth 405 Magnisia 401 Viotia
377 Ilia 366 Imathia 316 rhodes 304 Arcadia
298 Lakonia 285 Trikala 275 Kavala 257 Fthiotida 262 Messinia 238 Argolida 217 Halkidiki 216 Drama 213 Rethymno 205 Evros
194 thesprotia
186 Lesvos
175 Arta 174 Pella
152 Corfu 151 Kilkis
126 Rodopi
119 Chios 118 Lefkada 112 Preveza
109 Lasithi 104 Kastoria
99 Xanthi 92 Zakynthos
84 Fokida 76 Grevena 68 Syros
56 Evrytania 52 Kefalonia
46 Kalymnos 45 Kos 40 Tinos
32 Ikaria
Each 31 Naxos, Samos
20 Thassos
19 Paros
Each 13 Thira, Limnos
8 Karpathos/Kasos 7 Mykonos 6 Andros
4 SPorades 3 Ithaki
1 Milos
1333 under investigation
MAP infections per 100,000 population based on last 14 days
Dec 30 same as Dec 27
Dec 29 same as Dec 27
Dec 28 same as Dec 27
Dec 27
Dec 26
EODY daily coronavirus bulletin in Greek
here
.
More information on coronavirus in Greece on
KTG here
.