Greece's health authorities announced on Saturday, 18,967 coronavirus cases and 14 deaths in the last 24 hours. The number of intubated Covid-patients in hospitals ICUs stands at 97.
Friday, July 1
18,996 coronavirus cases, 18 deaths, 95 ICUs
EODY bulletin July 2
Tests last 24 hours: 131,591
PCR: 13,026 RAPID: 118,565

Positivity PCR+Rapid: 14,41%
National Health Care Organization (EODY) said on Thursday that all confirmed infections since the pandemic began stand at 3,708,210 (daily change: +0.4%).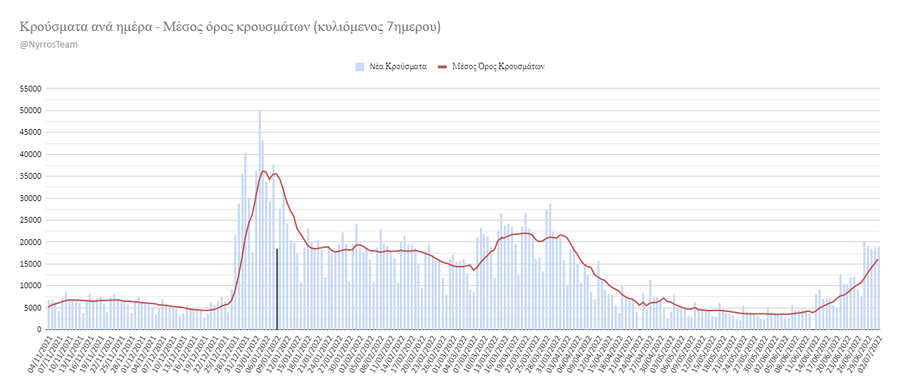 15,839 new coronavirus and 3,128 reinfections in the last 24 hours.
Reinfections are estimated at 3,128 in the last 24 hours, while their total since the pandemic began is estimated at 177,157 (4.6% of the total positive results).
Rolling average: 16,092 from 9,731 last week
Rt: 1.35 (from 1.32 last week)

22 deaths recorded in the last 24 hours and 4 from previous days brought the total of pandemic victims to 30,276. Of these, 95.7% had an underlying condition and/or were aged 70 or over.
95 Covid-patients are on ventilators in hospitals. Their median age is 69 years and 91.6% have an underlying condition and/or are aged 70 or over.
Of the total in intubation, 37 (38.95%%) are unvaccinated or partly vaccinated and 58 (61.05%) are fully vaccinated.
4,734 have been discharged from ICUs since the pandemic began.
302 Covid-patients were admitted to hospital in the last 24 hours (daily change: -7.36%. The average admission of patients with Covid-19 to hospitals over the last 7 days was 267.
The median age of new infections is 37 years (range: 0.2 to 112 years), while the median age of the deceased is 80 (range: 0.2 to 106 years).
Geographic distribution July 2

According to EODY of the 18,967 coronavirus infections, 1 was "imported".
The remaining cases are:
8762 Athens/Attica
1417 Thessaloniki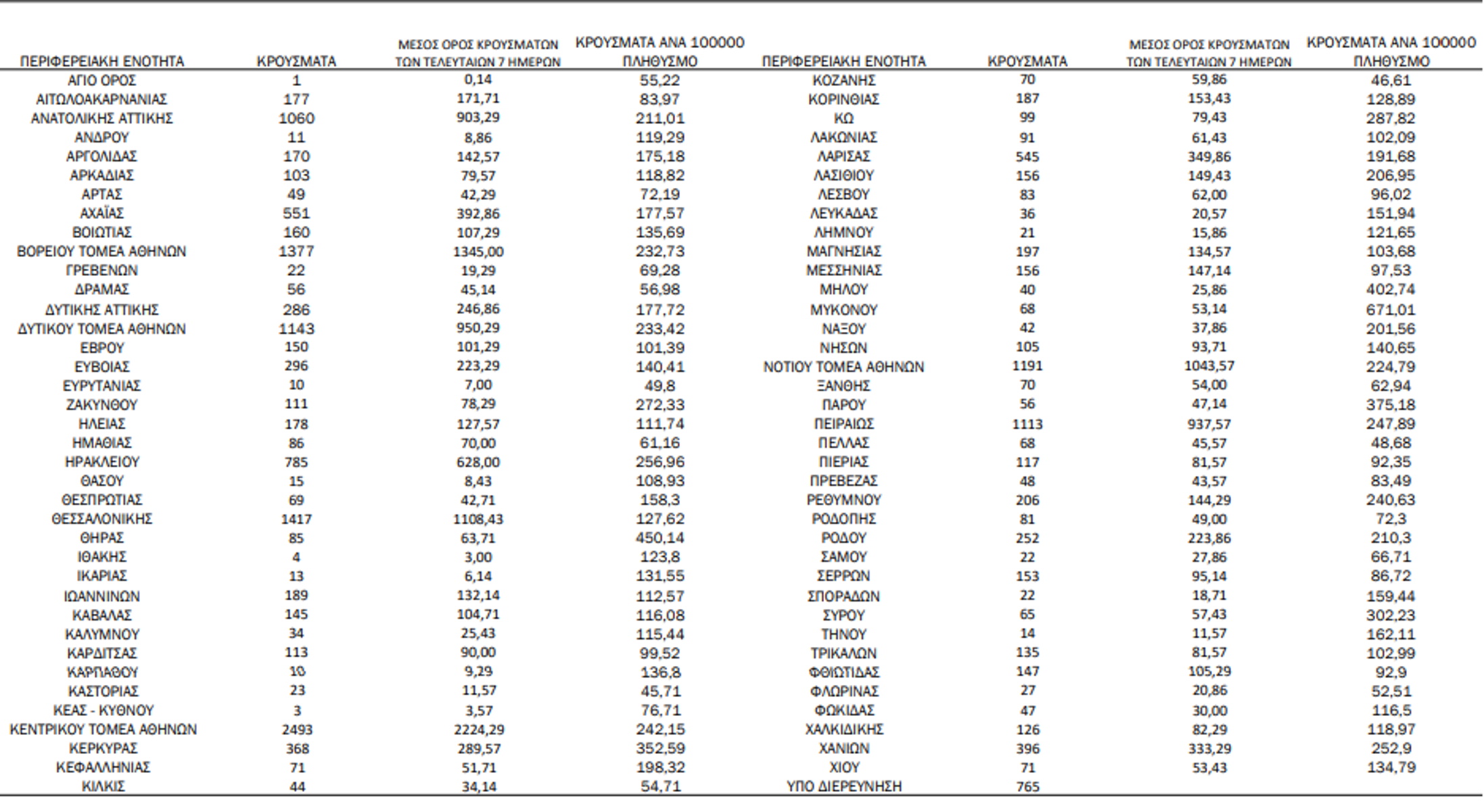 UNDER INVESTIGATION 765
MAP to compare: coronavirus infections per 100,000 population in last 14 days
July 2
June 30
EODY daily bulletin in Greek here.
More on coronavirus in Greece here.