Torrential rainfalls have been hitting several parts of Greece from the north to the south, flooding streets, homes and businesses and destroying infrastructure. The sporades islands but also Thassos were badly hurt by the rainstorms, while Crete was hit as well.
Two bridges collapsed, streets turned into rivers and tourists were trapped at a beach when the summer storm hit the island of Skyros on Saturday afternoon and it poured for several hours. Local authorities speak of a "dramatic situation" on the island.
"The situation here is tragic. We have very heavy rainfalls, there are serious problems in the road network, two beaches have been completely destroyed, people were trapped on the beach of Pefkos and we managed to free them three hours later," mayor of Skyros, Nikolaos Mavrikios told newsit.gr.
"The rain is torrential, it hasn't stopped since 2 o' clock in the afternoon at all", the mayor stressed adding that traffic has been halted in several roads.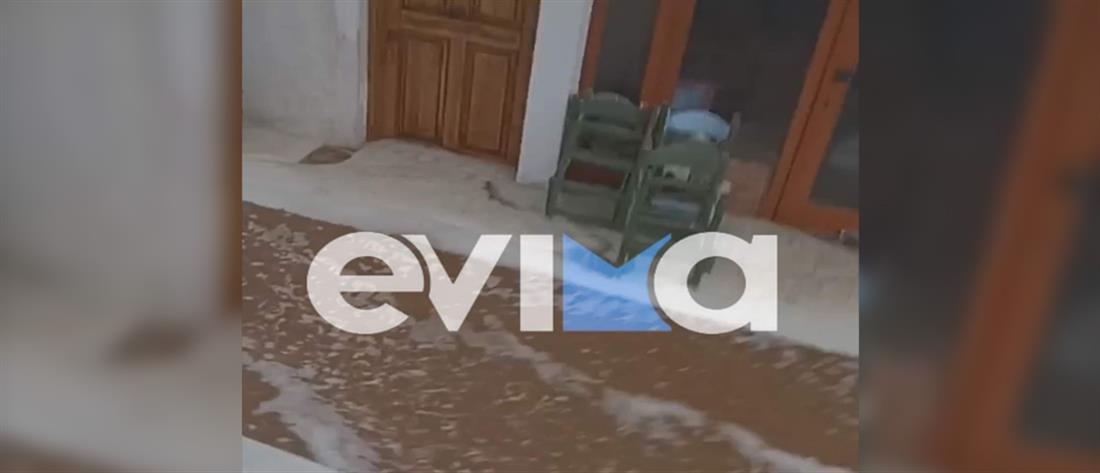 In an announcement, the mayor reportedly urged locals and tourists to refrain from unnecessary movement and going to the beaches during the weather phenomena.
Torrential rains that poured down from Friday night until 7 p.m. on Saturday also the neighboring island of Skopelos in the Sporades have destroyed the majority of rural roads.
According to deputy mayor Aristidis Voulgaris , rural roads were destroyed throughout the island, as well as forest roads, while the water brought rubble down on the roads of the villages of Skopelos.
Skiathos was not exception to the bad weather rule  and it rained also from Friday to late Saturday. However, authorities say that the situation was under control.
Video: Skiathos
Torrential rains hit also the island of Thassos in the north-west Aegean Sea, flooding homes and businesses as well as touristic facilities and hotels and swept away vehicles.
In Limenaria and Potou locals were struggling all night to save their properties and possessions, local media reported.
As the bad weather front moved to the south, torrential rainfalls hit Rethymno and Heraklio on the island of Crete.
In Rethymno there was power outage that did not last long, though, local media rethemnos reported.
Flooded streets had merchants rushing around to get together their products before they were swept away from the rushing waters.
According to meteorologists who had warned about the bad weather front, the phenomena are moving to the East on Saturday night and are forecast to have weakened by Sunday morning.
PS It has been raining in south Athens since 8 o' clock in the evening 🙁