A big Search and Rescue operation is underway in Posidi, Halkidiki, with two swimmers to remain missing early Saturday evening. A third swimmer was rescued by a surfer short before 7 p.m. and was taken to the health center of the area.
Winds are currently blowing in the area with intensity 5 to 6 Beaufort.
The three swimmers aged 25, 30 and 32, went into the water Saturday noon, after a birthday party celebrated at the beach. The three men from North Macedonia were spending vacations with a group of young people in Posidi.
Sunbathers who saw the three young men being swept away by the sea waves and currents, informed the Coast Guard.
Mobilization of authorities was immediate, while also private boats set to seek for the missing persons.
Still in the evening, a coast guard vessel and one patrol boat, one Air Force helicopter, two private boats, a fishing boat and a team from the Volunteers Rescuers are "combing" the area as the SAR operation will become more difficult when the night falls.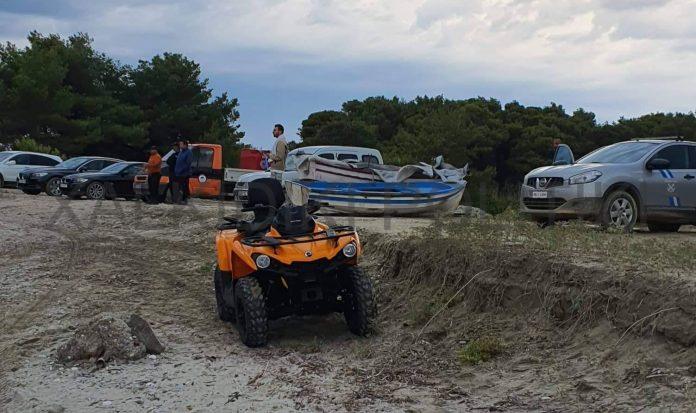 The rescued swimmer is reportedly is shock and is soon to be transferred to the hospital in Halkidiki hospital because he had swallowed a lot of sea water, the rescuer told ERT TV..
The mayor of Kassandra told newsit.gr, that the three men jumped into the water from a spot that it is dangerous due to the currents even at days without wind. "Locals know this spot and avoid it, but not some of the tourists."
Speaking to Alpha TV, sunbathers said that "the three men in the sea suddenly disappeared from our sight."
The missing persons are 30 and 32 years old, ERT reported.
Locals suggest that due to the north-western winds the swimmers could not swim back to the shore.
UPDATE Sunday, July 10
One of the two missing swimmers was rescued, state broadcaster ERT reported Sunday noon.
The man was picked up by a commercial ship sailing in the area. A helicopter is to transfer him to a military hospital in Thessaloniki.
The second missing man is still missing and the Search and Rescue operation continues.
The father and the brother of one of the missing young men have reportedly traveled from North Macedonia to Posidi and are on board of a volunteers rescuers' boat out in the sea.
It is not clear whether they are the family of the missing or rescued man.
UPDATE Sunday evening
30-year-old Ivan managed to survive for 20 hours in the rough sea thanks to a children's ball!
Read about the incredible rescue like in a film here on KTG.