A heatwave with up to 40°-42° Celsius is forecast to hit Greece, the National Meteorological Service EMY has warned. According to an emergency bulletin issued Friday noon, the prolonged heatwave is expected to last until the end of July.
The heatwave is forecast to set in on Saturday, July 23, 2022, and affect most of the country, particularly regions at distance from the shores.
The areas that will be affected are mainly in the western, central and northern Greece as well as the islands of the south-eastern Aegean Sea and the Dodecanese.
The warm air masses arrive from western Europe and the coast of North Africa.
Video: temperatures July 21-30, 2022 – via meteo.gr of the National Observatory of Athens
Heatwave forecast by EMY
Forecast July 23-25, 2020
a. on the mainland, temperatures of around 39 to 40 degrees Celsius are forecast. Due to local conditions (micro-climate, low winds), and especially in areas inside the mainland that are not affected by sea breezes, the temperature will be one to two degrees higher, that is 41 to 42 degrees Celsius.
Areas of central Macedonia, Thessaly, Sterea and Peloponnese will be affected.
b. in the Ionian islands, the Dodecanese and southern Crete, temperatures of around 35 to 37 degrees Celsius are expected.
c. in the rest of the islands, temperatures of around 33 to 35 degrees Celsius are predicted.
Athens/Attica: Maximum temperature will reach 39 to 40 degrees Celsius, while in the coastal areas it will be 3 to 4 degrees lower.
According to the forecast data available so far, although a slight drop in temperature is expected from Tuesday. 26. July 2022, in the eastern mainland regions, the maximum and minimum temperature values ​​in the lowland areas of central Macedonia, Thessaly and Sterea will continue until Thursday, 28. July 2022, at high levels.
Maps: Indicative temperatures July 23-27, 2022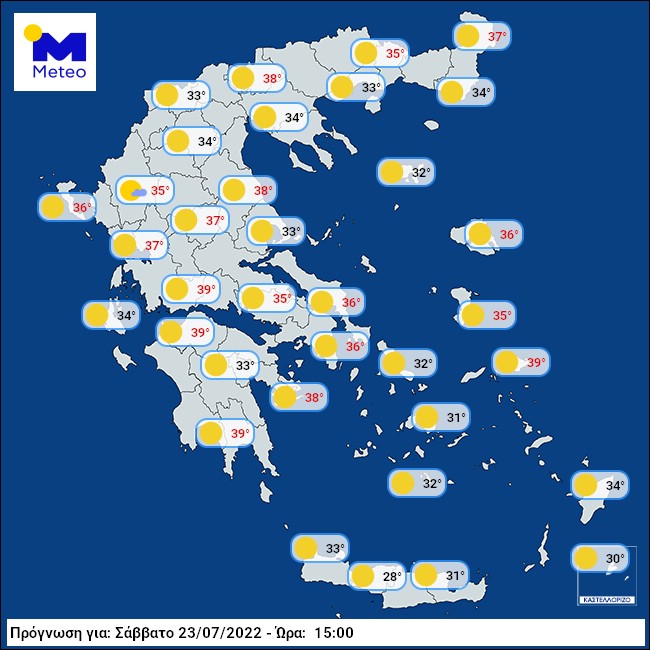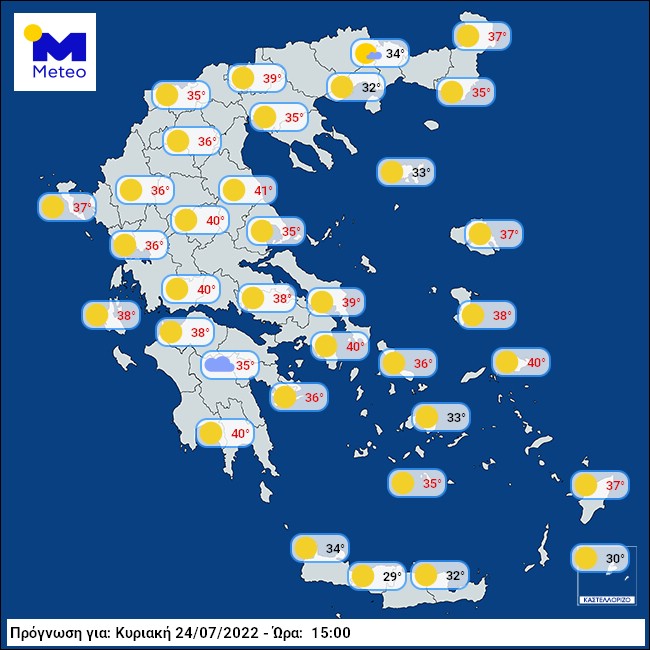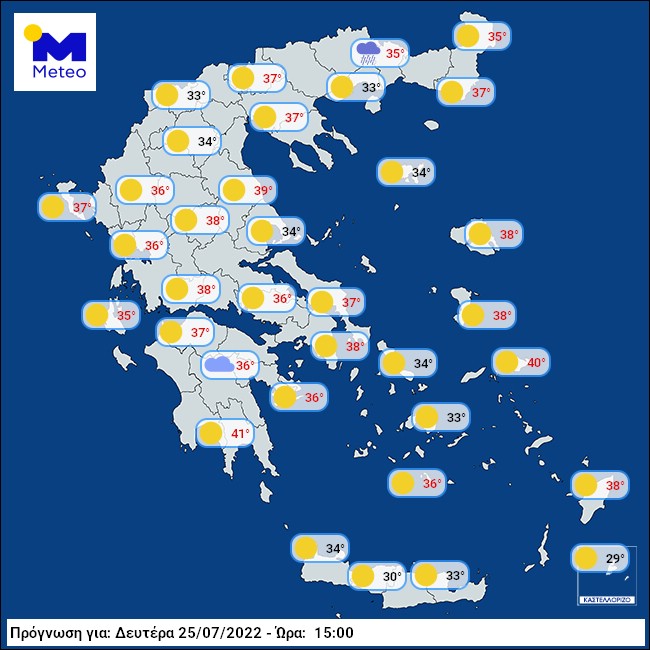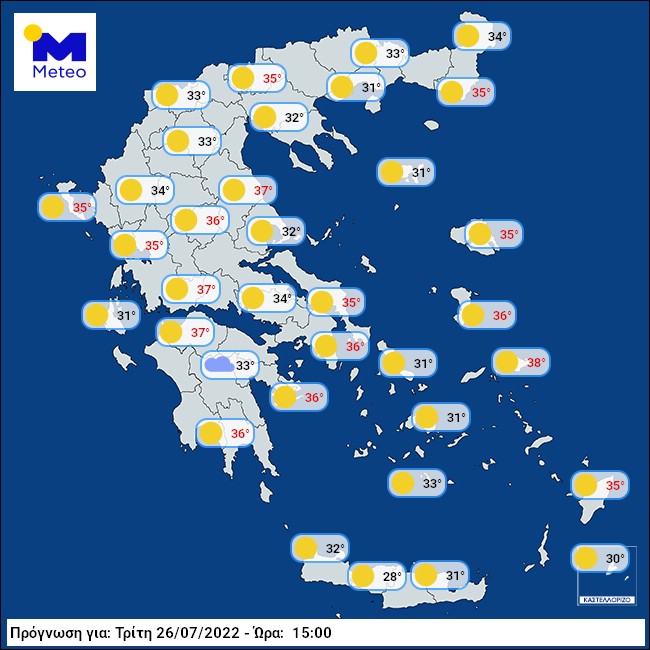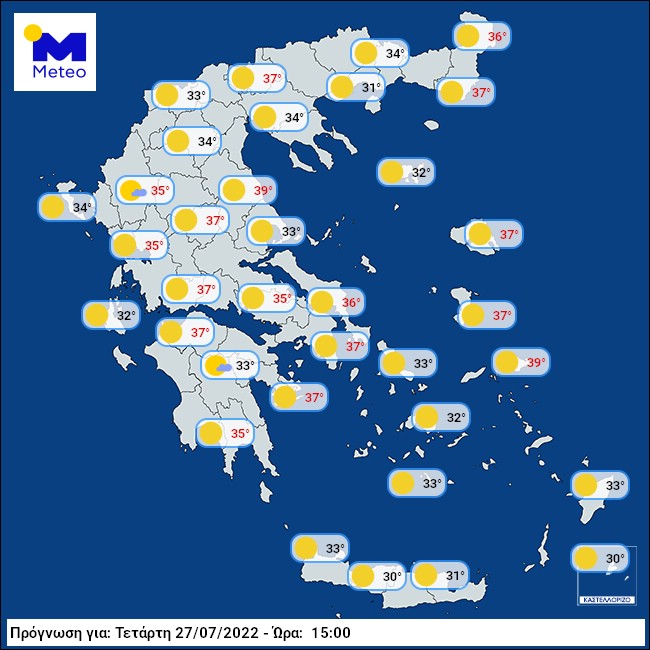 EMY said it will update its weather warning when new data and when necessary.
For Friday, July 22, the forecast is :  high temperatures, clear skies and winds up to 6 Beaufort.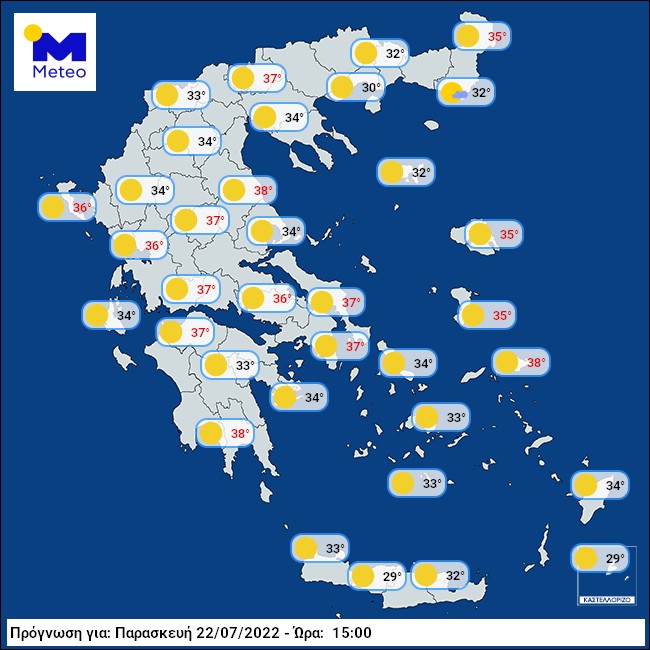 The heatwave will deteriorate the conditions on the ground, in forests and low vegetation areas, as Greece has been struggling with several wild- and forest fires in the last days.
PS Always check with elderly relatives or neighbors during a heatwave and put a bowl with fresh water for the strays