Two earthquakes hit the island of Samos at Wednesday noon within just 14 minutes apart. Both earthquakes had the same epicenter 13 km in the sea area off Pythagorio. They had relative small focal depth and were felt in neighboring islands and the western coast of Turkey.
According to the Geodynamic Institute of the National Observatory of Athens, the first tremor occurred at 12:56 with its epicenter in the sea area 18 km south of the island, Its focal depth was 10 km.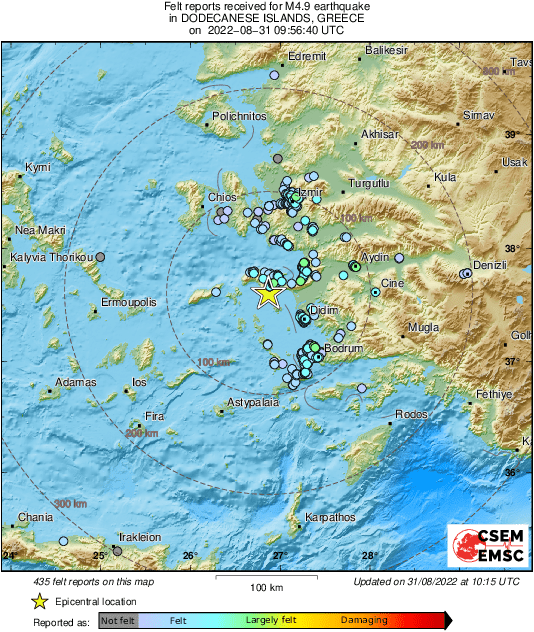 The second tremor occurred at 13:10 also in the sea area 18 km South-SouthWest of the island. Its focal depth was just 2 km.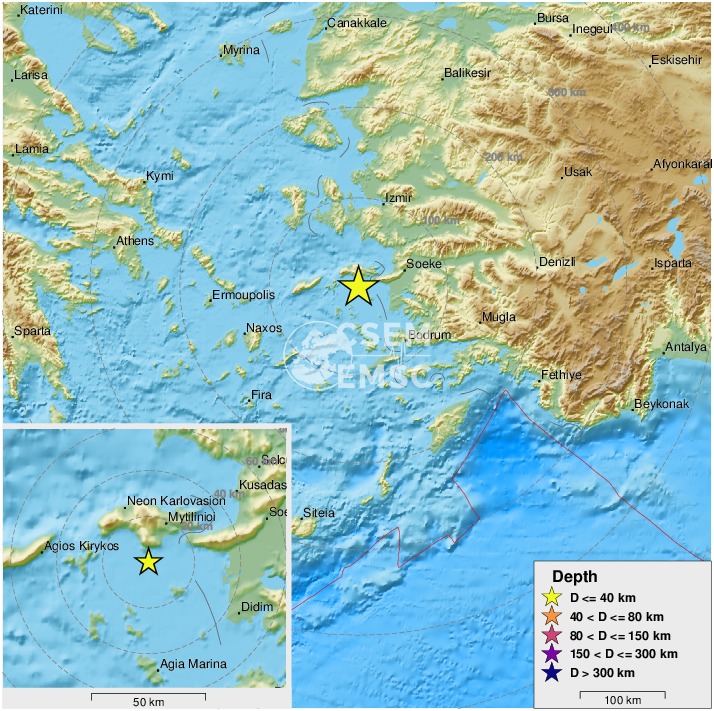 Note that different seismological institutes normally give different magnitutes. The first tremor is given with 4.3-4.7R and the second with 5.2-5.4R.
The second tremor strongly felt in nearby islands of the Dodecanese as well as in the western coast of Turkey.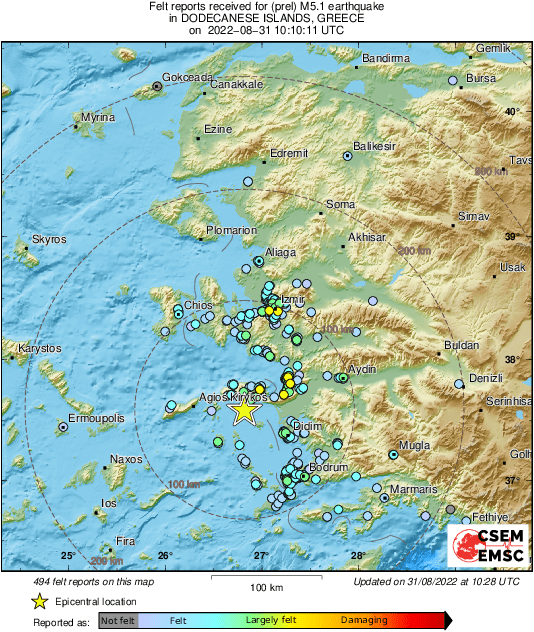 Local described the tremors as "big" , adding that they were shaken pretty well.
Speaking to ANT1 TV a few minutes after the second earthquake, the mayor of East Samos, Giorgos Stantzos, said that they had no reports of injuries, so far.
He added that they were evacuating public buildings and that municipality teams were out to check for material damages.
Mayor Stantzos stressed that they were in contact with seismologists.
At 13:19 one more earthquake occurred with a magnitude of 3.1 R.
Seismologist Gerasimos Papadopoulos told news website enikos.gr, that both earthquakes had the same epicenter 13 km south of Pythagorio. He added that they have no link to the 7R in October 2020 on the island.
Speaking to the same website, head of Earthquake Planning & Prevention Agency, Efthimios Lekkas, said that he had contacted both mayors on Samos and there was no picture about possible material damages.
Speaking to state broadcaster ERT, Lekkas called on citizens to avoid old buildings.
"We are in a good stage of managing the phenomenon", he said and underlined that "we still have to be cautious"
As seismologists are closely monitoring the phenomenon, it is still unclear whether the strongest tremor was the main earthquake.
Skai TV reported that seismologists are not reassuring yet.
UPDATE: 20:00
A third tremor hit the island with 4.5R at 17:02. The earthquake had the same epicenter as the two previous ones.
The Fire Service confirmed at 8 o' clock that there have been no damages on Samos.
Seismologists say that they closely monitor the phenomenon.
Also check: @LastQuake