Ferries to the islands of Cyclades and the Dodecanese remain docked at the ports of Piraeus, Rafina and Lavrio due to gale-force southern winds blowing in the Aegean Sea on Wednesday.
Sailing prohibition is in force until further notice.
Departure of ships was also prohibited in the routes Nea Styra – Agia Marina and Salamina – Nea Peramos.
The Rio – Antirio line has also been closed since Tuesday night due to the strong winds blowing in the area.
The only ships that sail today so far are the closed type ones bound for the islands of the Saronic Gulf. media report.
If you plan to travel by sea, check with local port authorities and travel agents.
According to the network of automatic weather stations of the National Observatory of Athens / meteo.gr, stormy south winds are prevailing in Greece on Wednesday, January 18, 2023.
The strongest wind gusts until about 10:30 were recorded in Paximada Karystos (143 km/h), in Keratea (101 km/h), in Porto on Tinos (100 km/h) and at the Holy Monastery of Megistis Lavra (100 km/h).
The relevant table shows the 8 stations of the network that recorded the strongest gusts.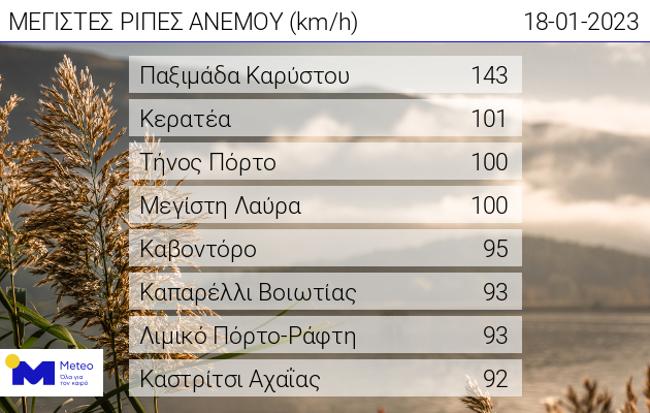 Check with the weather report here on KTG.