Greece' new parliament finally convened on Thursday. 300 MPs elected in June 17 elections were sworn-in in a religious ceremony. Even thought members of left-wing SYRIZA and communist KKE refrained form taking a religious oath. Three Muslim MPs were sworn-in to the Quran.
The ceremony took place in absence of PM Antonis Samaras, who rests at home due to eye surgery, of PASOK-leader Evangelos Venizelos who attends the meeting of the European Socialists party in Brussels and of four ministers who are in Brussels as well accompanying President Papoulias.
Accompanied by family members and friends  one after the other, first-time elected and veteran and  MPs elected climbed the stairs of the Greek parliament.
However these stairs can hide a lot of parliamentary traps. Eleni Zaroulia, newly elected MP for Chrysi Avgi and wife of its leader Nikos Michaloliakos, had to carry the heel of her sandal as it broke while contacting the very first parliament step, just centimeters away from the red carpet.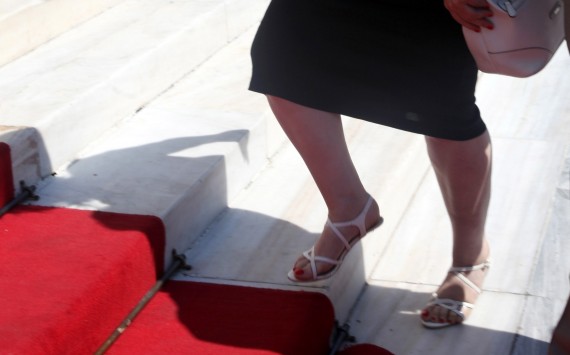 "Got the evil eye?" someboy asked, and Zaroulia answered "yes, got the evil eye".
Procedure
On the procedure level, Nea Dimocratia has proposed Vangelis Meimarakis for the post of the parliament speaker.
On Friday MPs will elect the seven vice presidents of the parliament in a secret voting. The first three will be appointed by the party with the most seats, i.e. ND, and the four rest from next strongest parties, i.e. SYRIZA, PASOK, INDEPENDENT GREEKS and CHRYSI AVGI.
The position of the seventh vice president might remain empty, as the Chrysi Avgi MP would need 75 votes, Greek media reported recently.
ND 129 seats – SYRIZA 71  – PASOK 33 – INDEPGREEKS  20 – CHRYSIAVGI 18 – DEMLEFT 17 – KKE 12
Vote of Confidence
 According to the Constitution, the new government must receive a vote of confidence from Parliament within 15 days of the swearing-in of the prime minister.  The vote for the new government is expected to be completed at midnight on July 6, 2012.
However before the vote of confidence, PM Antonis Samaras must read the programme of his coalition government. He would have to stand for about an hour. Will the doctors allow him to after his detached retina surgery? He will visit them tomorrow, Friday.