Kos earthquake: Two dead, more than 120 injured, among them 5 in critical condition. Majority of the injured are tourists. Serious damages in the port of the island of Kos after a powerful earthquake stroke with 6.4 R short after midnight. One third of the island is without electricity. No ferry can dock at the port. The airport is operative, however, there are flight delays and cancellations.
Old buildings collapsed or suffered serious damages.
This… beautiful piece got ruined last night by an earthquake. It was terrifying. #earthquake pic.twitter.com/png7UeuBeq

— Blu's prince. (@Stcyinclive) July 21, 2017
Video: first images from Kos, Friday morning
Dead are a 28-year-old Swedish and an 39-year-old  Turkish national. The two died when the roof of a bar in the old city of Kos collapsed during the earthquake. Five more people, all foreign nationals, were injured and are in critical condition. One of them had to undergo amputation on both legs.
A Norwegian woman, a Turkish man and a Greek are been transferred to hospitals in Athens. Two Swedish nationals and two Greeks have been transferred to Herakleio. All injured are been transferred by military Shinook helicopter.
Three more injured may be transferred to hospitals outside Kos, media report.
More than 100 people were transferred to hospitals, the majority of them with light injuries. 75 people received first aid and were discharged. Ten people remain hospitalized.
The earthquake occurred at 1:31 in the morning Friday, 21 July 2017. The epicenter of the earthquake was in the sea area east of the island, between Kos and Bodrum on the Turkish coast. More than 90 injuries are been reported from Turkey. Also material damages.
Video: raw footage from CCTV – Turkey
The tremor was so powerful that locals and tourists started to run in panic. Many spent the night outdoors. Hotel managements provided their customers with all possible supplies for a comfortable night under the stars.
The calm after the storm #kos #earthquake #greece pic.twitter.com/lhjdIXboy1

— Deborah kinnear (@deborah_bigtoe) July 21, 2017
Dozens of aftershocks with maximum 5R have occurred by now.
Two ferries sailing to from Piraeus to Kos were not able to dock at the port due to the extensive  damages. The boats changed route and docked at the ports of nearby islands of Nisyros and Kalymnos. The port has been practically cut into two. Divers are expected to evaluate the port condition.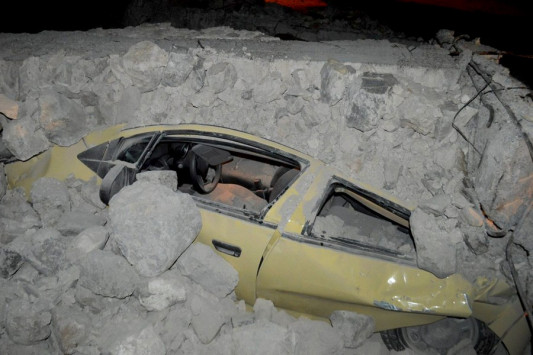 Rescue teams, firefighters, doctors and officials are working non stop. There are no reports about people trapped in the debris.
Video footage short after the earthquake
Media report of a mini tsunami of 70 cm height. More soon.
+++ Authorities warn residents to stay out of their homes if they see any damage.
International media report of the earthquake as of 6.7R based on measurement of the US Seismologic Institute.
Bodrum-Kos #earthquake: loc of main shock and aftershocks by Kandilli Obs. https://t.co/2mQxo4M65c pic.twitter.com/wnd5L5AIwq

— Robin Lacassin (@RLacassin) July 21, 2017
Twenty-two aftershocks have occurred within the first the eleven hours after the main earthquake.
See also:
Earthquake triggers mini tsunami, floods coastal roads in Greece and Turkey
Seriously injured Greek and foreign tourists flown to hospitals in Athens and Crete
Greece revises Kos earthquake magnitude to 6.6R
Transportation to and from Kos after the earthquake: airport, seaway, tourism