A fire broke out in the forest area over Lefkadas' famous beach Porto Katsiki. According to local media reports, the blaze is burning between Porto Katsiki and the other famous beach Egkremnous.
via lefkadatoday.gr
The fire is reportedly raging in a difficult to access area.
The fire broke out early Sunday afternoon and mobilization of firefighting land forces and aerial means was immediate.
According to the Fire Service, over 32 firefighters with 9 engines, two teams on foot, 4 Canadair water-dropping aircraft and one helicopter as well as municipality water-tanks are currently operating in the area.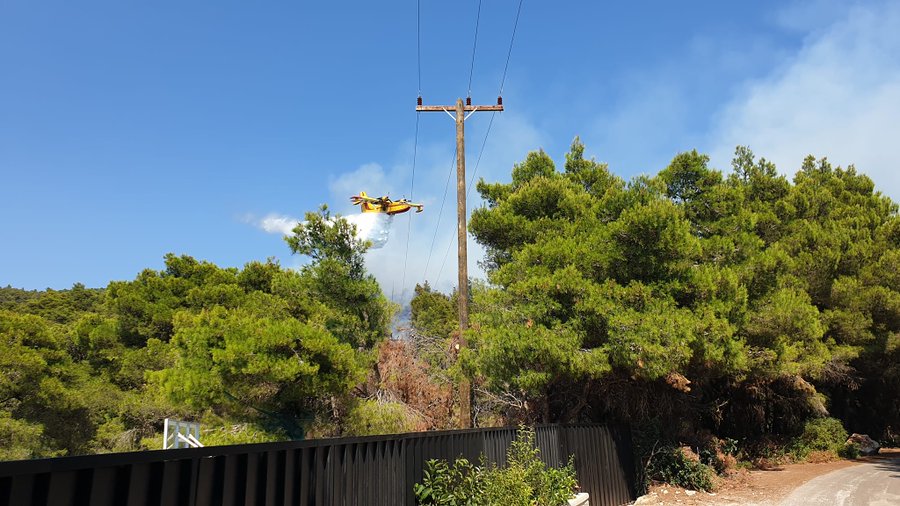 via lefkaditikanea
Meanwhile, in Achaia, North-West Peloponnese, a big fire is raging in the area of Portes since 4:30 Sunday afternoon. Two hours later, the evacuation of village Valmi was ordered fro preventive reasons.
The blaze has reportedly gone out of control due to the strong winds blowing in the area close to the prefecture of Ilia.
According to local media tempo24.gr, the fire broke out in the archaeological site of Portes, that include the prehistoric Mycenaean cemetery dated 17th-11th centuries BC.
There are currently 71 firefighters with 25 fire engines and 3 teams on foot operating in the area, while 4 firefighting aircraft and 3 helicopters drop water from the air.

The firefighting powers are constantly increasing, report local media.
Both the Greek Civil Protection and meteorologists have warned of the very high risk of fires over the weekend due to low humidity, high temperatures and powerful winds.
In a statement, the Fire Service said Sunday afternoon that a total of 53 wild- and forest-fires occurred on Sunday, July 3.
UPDATE:
Local media reported early Sunday evening that the fire in Porto Katsiki was under control and in recession.
In contrast, the blaze in Portes, Achaia, is completely out of control as powerful winds continue to blow.
Deputy regional governor Vassilis Giannopoulos told state-run news agency amna on Sunday evning, that after Valmi, also residents of the communities Kotrona and Karagianneika were ordered to evacuate.
Firefighter are struggling to control the fire before it reached the mountainous community of Latta.
In Valmi, firefighters managed to stop the fire 150 meters before reaching the houses of the village.
Video: Valvi evacuation
Locla medi arpeort that the smoke from the fire has reached the city of Pyrgos.