Residents in two settlements in West Attica have been ordered to evacuate early Tuesday evening after a fire broke out in agricultural and forest land in Mandra. It is the second wildfire in the broader area, after the one in forested area in Haidari suburb of Piraeus, some ten kilometers away. Fires keep breaking out in the country.
Residents of Neos Pontos and Nea Zoi, where the fire broke out, are currently leaving the settlements for preventive reasons due to thick black smoke, media report.
⚠️ Ενεργοποίηση 1️⃣1️⃣2️⃣

🆘 Αν βρίσκεστε στους οικισμούς #Νέος_Πόντος και #Νέα_Ζωή εκκενώστε τώρα προς #Μάνδρα

‼️ Δασική πυρκαγιά στην περιοχή σας

Οδηγίες αυτοπροστασίας ℹ️ https://t.co/9lipugtsn0@pyrosvestiki

— 112 Greece (@112Greece) July 26, 2022
50 firefighters with 22 fire trucks as well as two teams on foot, volunteers and 5 water-dropping aircraft and three helicopters are operating in the area.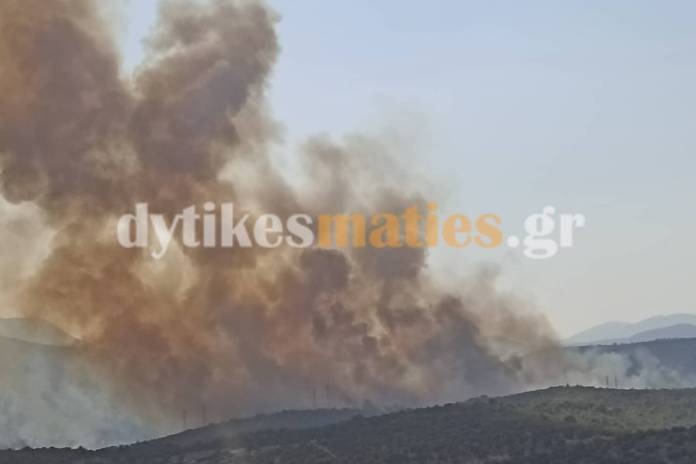 The fire-fighting forces are reportedly strengthened.
The fire broke out short before 6 o' clock in the afternoon, 2.5 hours after the one in Haidari, where over 70 firefighters together with volunteers, two teams on foot, two aircraft and two helicopters are operating.
According to the briefing by the Fire Service, 89 forest fires broke out in the last 48 hours across the country.
Spokesman of the Fire Service Giannis Artopios said that the blaze on the island of Lesvos has been largely contained except one fire front East of the village Vryssa.
The fire in the Natural Park and Forest of Dadia in Evros, North-Eastern Greece, continues for the sixth consecutive day.
The spokesman blamed the density of the forest making the fire extinction diffuclt.
the fires in Ilia and Grevena are largely under control.
Spokesman Artopios said that seven people have been arrested in the last few days: 6 of them for arson on purpose and one by negligence.
He did not elaborate in which regions the arrests were made.
The Civil protection warned of very high risk of fires also on Wednesday, July 27.
⚠️ Χάρτης Πρόβλεψης Κινδύνου Πυρκαγιάς 🔥 για αύριο Τετάρτη 27/7:

🟠 Πολύ υψηλός κίνδυνος 4⃣:

📍#Aττική
📍κεντρική & νότια #Εύβοια
📍περιοχές σε #Βοιωτία

🟡 Υψηλός κίνδυνος 3⃣ στο μεγαλύτερο μέρος της χώρας

ℹ️ https://t.co/UcUk400yPY pic.twitter.com/rNYMicFsEV

— Civil Protection GR (@GSCP_GR) July 26, 2022
Areas at very high risk (Attica, Central and South Evia, areas in Viotia) are marked Orange, while areas at high risk are marked Yellow.