Greece will lower tax-free threshold to 5,681 euros annual income. The European Union sets the poverty line at 6,000 euro. This is the biggest scandal in the package of additional austerity measures Greece and creditors agreed upon in the early morning hours of Thursday.The second scandal is an additional cut in pensions, both main and supplementary pensions that will affect also pensions above 700 euro. With these two measures, pensioners will be double hit. Furthermore, expenditure cuts in social benefits will break thousands of households living below the poverty line.
The agreement between Greece and creditors includes a package of austerity measures and counter-measures to be implemented as of 1.1.2019 – pension cuts- and 2020 – tax-free threshold-.
Pension cuts: Average cut at 9%, maximum up to 18% both on main and supplementary pensions. One may see a total of 36% cut. There will be recalculation of pensions and cuts in so-called "personal difference." Affected will be also pensions above 700 euro per month. This measure will affect 900,000 pensioners out of  2.6million total. Most affected will be pensioners of former TEBE, pensioners with university degree and many years of social security, and civil servants, pensioners of  private sector IKA, self-employed of OAEE, other social security funds who receive more than 1,300 euro pension. The cuts could be up to 300 euro per month.
It should be noted, that despite the cuts since 2010, pensions of civil servants are still be considered at the amount they received when they entered retirement.
Tax-free threshold: it will be lowered from 8.636 euros annual income to 5.681 euros for single taxpayers and 6,700 euros for families. The measure affects employees, pensioners and farmers. This means a burden of 650 euros even for those with very low incomes.
Pensioners receiving more than €470 per month will be obliged to pay taxes. A pensioner with €700 per month, now tax-free, will pay annual tax 600 euro.
Medical expenses: Tax discount for medical expenses will be abolished. This it to be understood as an indirect increase in the taxation especially for the chronic-ill as austerity cuts in health sector have increased private expenses for the medical sector.
Heating allowance: there will be cuts worth 56million euros for social vulnerable groups.
Labor rights: Mass lay-offs rate remains at 5%, however, the veto right and the consent of the Labor Ministry are abolished.
Stores on Sunday: Stores to be open all Sundays of the year in touristic areas like the historic center of Athens or the downtown of Thessaloniki. There is talk that all stores along the Athens Riviera, from Piraeus to Cape Sounion. the issue will clear when the law comes to Parliament.

Non-prescription medicines to be sold at supermarkets
Greek media report that also additional measures (medium-term program) worth 450 million euro will be implemented in 2018. The measures refer to
abolition of medical expenses €121million (see above)

abolition of 1.5% deduction in calculation of monthly withholding tax €68million

cuts in heating allowance €58million

abolition of benefits incorporated in the Social Solidarity Income €10million

additional cuts to save €188million from National Health Care system EOPYY




In 2017, changes in the calculation of social security contribution for self-employed and freelancers took place. Charging double social security contributions for full or even part-time employees who might also have a freelance activity led some 100,000 people to end the free-lance activity.

Also in 2017, expenditure cuts in poverty allowance for low-pensioners worth €570 million is to be implemented. Also a ceiling of 2,000 euro per month in the main pensions and of 3,000 euros for those receiving pensions from several social security funds.
Also this year, a legislation based on the OECD tool kit recommendations for the liberalization of the food, beverage and tourism markets is due. So far, I have no more information on this issue.
The package of counter-measures foresees also a tax reduction. Tax rate for businesses is to be reduced from 29% to 26% and for natural persons from 22% to 20%. Especially the last provision is thought as a counter measure to relief low-incomers due to the lowering of the tax threshold.
However, tax decreases as part of the social counter-measures will be only possible when Greece achieved the primary surplus of 3.5% and an additional 0.2% according to the IMF, one of the creditors without financial participation. This means, Greece will have to reach a primary surplus of 3.7% in order to be able to implement the counter measures. 
In other words, low-incomers will be taxed with 22%, to start with. Deducting also social security contribution, the net income will be so low that few will manage to survive in an labor environment of 23% unemployment.

If they manage to survive on a couple of euros per month, they may enjoy a decreased taxation in the future.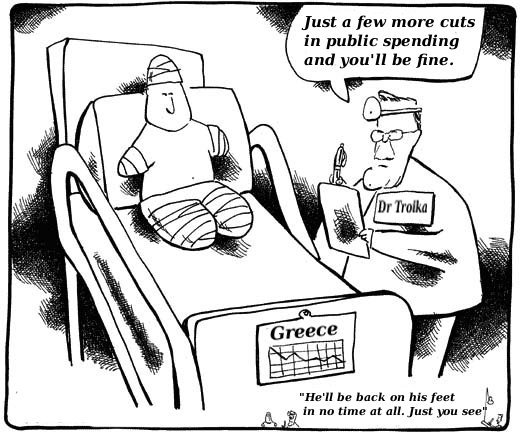 via @teacherdue
So far, I heard no reaction by the social-minded Jean Claude Juncker. Ops! One of the additional measures drafts that formed the basis of Greece-creditors deal was sent by the European Commission.
One more remark: I see fairly few structural reforms that have been much praised by the European creditors and the IMF. What I see is further cuts in the people's incomes, especially for pensioners that have paid thousands of euro in social contributions. And further expenditure cuts.
I suppose, the only gain the government managed to reach is to avoid increasing the rate for mass lay-offs.
PS at the end of the Greek programs and bailouts, average salaries and pensions will be at 500-600 euros, I'm afraid. They will not stop until they break down Greece.